Language barriers in healthcare settings can have life or death consequences. At Nebraska Methodist College, we offer minors in Healthcare Sign Language and Spanish for Healthcare Professionals to prepare our students to be not only an advocate but also a bridge for their patients.
With the Healthcare Sign Language minor, students learn critical American Sign Language vocabulary that includes some of the most common terms needed to sustain an ongoing dialogue, translate important care instructions and help express a patients' needs to their healthcare provider team.
Adjunct faculty member Patti Reitz (pictured above on far right) was instrumental in developing the NMC curriculum and agreed to answer a few questions about the program and her background.
How did you first learn to sign?
I fell out of a car at the age of 10 and was in a coma for three days. After waking up, I found myself gradually losing my hearing. I am deaf and have been signing for about 60 years.
What is the most difficult part of learning to sign?
I feel if you are genuinely interested in learning and apply yourself, there is actually no hard part in learning sign language. I have students who can prove that!
What is the most rewarding part?
When you actually make someone completely understood just by knowing their language! You can save life simply by knowing the alphabet.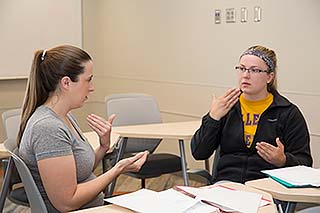 What brought you to NMC?
I was working at the former Nebraska School for the Deaf when I felt that medical professionals should have a better understanding of the deaf community and their culture. That was some 30 years ago. I came to the old (NMC) campus on Dodge Street and applied for a job and have been here ever since!
Why do you think it's important for healthcare students and/or professionals to know how to sign?
Deaf people tend to procrastinate seeking medical attention for the mere fact that they know they won't be understood. This is beyond sad! It takes so little effort to learn, and since our students are going to be eventually working with deaf people, they need to be able to communicate to the best of their ability!
What challenges and opportunities are there in the healthcare world for individuals who are deaf?
There are many challenges for us in the healthcare world. We may not be able to find employment in the healthcare world – other than teaching sign language – but we understand that. I would love to be able to walk into a healthcare clinic or hospital where every nurse/doctor could sign, but I know it won't happen in my life time!
Have you ever been in a medical situation and needed to translate for someone or need someone to translate for you?
I have been in numerous situations where I needed someone to interpret for me and no one was available. You have to be deaf to fully comprehend how devastating this is! I was in rehab and no interpreter was available. Deaf people just have to "make do" and communicate by pen and paper. It is too costly is one of the excuses heard most often.
I would like to mention two situations where our VERY OWN Methodist students were involved. I was in water therapy at Immanuel Hospital and, much to my surprise, one of the therapists was a former student of mine who could sign! Also, I was in a car accident last year and taken to Nebraska Medicine. The physical therapist there asked to work with me and he was also a former student of mine here at the college. It was so exciting to have this experience! It was just awesome!
I truly enjoy working with our students here at Methodist. The staff/students are just great, and it is a complete joy to come to work. Thanks to Methodist for providing the students with this experience!