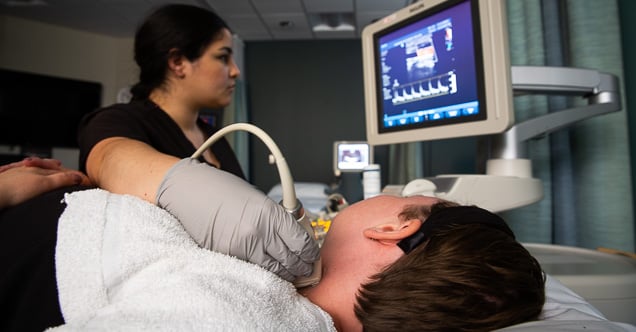 Nebraska Methodist College (NMC) is now offering a bachelor's degree option in Cardiovascular Sonography. Classes began August 2019, with the first students graduating in spring 2022 with their bachelor's degree.
As the role of the sonographer has evolved, NMC decided to offer a bachelor's degree option to keep up with the education demand for this role from several institutions. A bachelor's degree will also advance students' careers in this field.
"A cardiovascular sonographer's role is vital to the cardiologists and the vascular doctors for treatment of the patient. Having a higher education demonstrates that a sonographer is well educated in their support role to the physicians," Becca Bouckaert, MPA, RDCS, RVT, program director for the Cardiovascular Sonography program at NMC, said. "This role has evolved over the years, and more and more sites are requesting sonographers with a higher education. At NMC, we want to offer a variety of tracks to accommodate every student."
Previously, NMC only offered an Associate of Science degree for Cardiovascular Sonography, as an associate degree is required to practice as a sonographer. This program has seen great success with a 100% pass rate for 2019 and a 100% job placement rate for graduates.
So why should you choose a bachelor's degree in cardiovascular sonography over an associate degree?
"An advanced degree makes you a more credible professional," Bouckaert said. "It can also open other doors for the sonographer such as becoming an educator, working for an ultrasound system or product company and may lead to management opportunities. You can also make more money and be more competitive in the job market."
Program Format
The 4-year Bachelor of Science degree consists of a hybrid format of on-campus and online instruction. The first two years are spent in classes on campus. The third year offers online coursework plus clinical training. The final year is 100% online.
NMC's Cardiovascular Sonography program provides student-focused instruction and laboratory learning experiences along with experience gained through clinical training at hospitals and clinics locally and throughout the United States.
This program doesn't require any prerequisites, making it perfect for students applying from high school. Classes vital to the field like anatomy and physiology, physics and algebra will be taken during the first year before the students get into the ultrasound-specific courses in the second year. Having a strong base in math and science is extremely important to be successful in this program.
There is also a degree completion option where practicing cardiovascular sonographers with an associate degree can join the program to complete their bachelor's degree in only a couple years.
Dual Registry
NMC offers a combined vascular and cardiac degree, meaning that students will become registered in both, making them more desirable in the job market for many institutions.
"A majority, if not all hospitals/clinics, in the Midwest and beyond are looking for sonographers registered in BOTH cardiac and vascular. Many will not hire [a sonographer] without dual registry. It puts the student a step ahead of a sonographer that only has one registry," Bouckaert said.
Students of NMC's Cardiovascular Sonography program are able to sit for adult echocardiography and vascular technology examinations administered by the American Registry of Diagnostic Medical Sonographers (ARDMS) prior to graduation.
After successful completion of the exams, the individual will be a Registered Vascular Technologist (RVT) and Registered Diagnostic Cardiac Sonographer (RDCS).
Job Outlook
The Bureau of Labor Statistics (BLS) projects 19 percent growth for diagnostic medical sonographers (including cardiovascular sonographers, cardiovascular technologists/technicians and vascular technologists) between 2018 and 2028, a much faster rate of job growth than the average for all other occupations. The national median salary for diagnostic medical sonographers was $67,080 in May 2018.
The BLS equates this need for cardiovascular sonographers to the aging population. "As the large baby-boom population ages, the need to diagnose medical conditions—such as blood clots and heart disease—will likely increase. Imaging technology is a tool used in making these diagnoses."
Program Accreditation
The Cardiovascular Sonography program has earned accreditation by the Commission on Accreditation of Allied Health Education Programs (CAAHEP) upon the recommendation of the Joint Review Committee on Education in Diagnostic Medical Sonography. For information about the accreditation, please visit www.caahep.org.
Next Steps
Applications to enter the program in fall 2020 are currently being accepted. To learn more about the program, interested students can schedule a personalized one-on-one visit.
Students can also contact Recruitment & Admissions Coordinator, Katie Stockdale at (402) 354-7200 or katie.stockdale@methodistcollege.edu to learn more about the program and how to apply.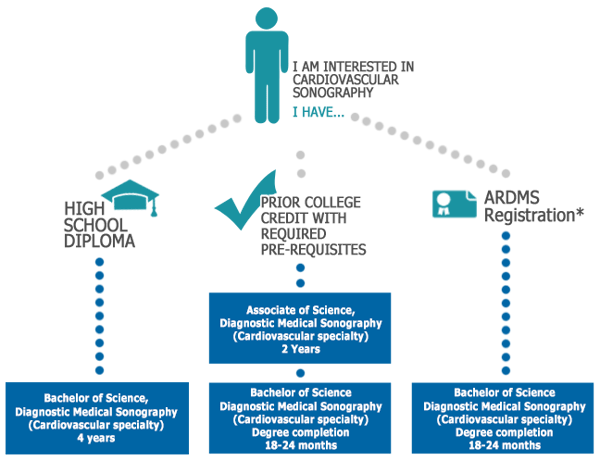 *For degree completion ONLY: Current ARDMS registration in cardiac (RDCS) and vascular (RVT) sonography.