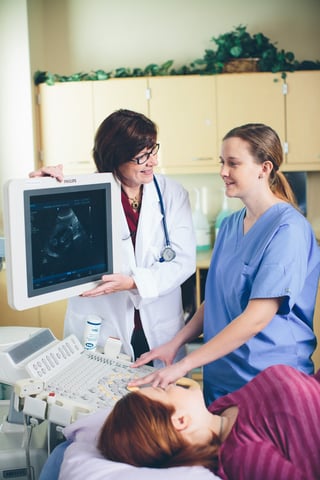 The image of the doctor hovering over a pregnant woman to reveal the first glimpse of a baby is one that's become ingrained in our minds thanks to pop culture.
But did you know that, in most cases, it's not a doctor but a dedicated sonographer who captures that image and gets to share that moment with an expectant mother and father? And that's not all the sonographer does; he or she is responsible for conducting tests on any number of different parts of the body in order to diagnose diseases and help an individual get the help they deserve.
Today, we'll reveal the surprising facts that you never knew about being a diagnostic medical sonographer, a degree that's truly pregnant with career possibility.
Hold Up: What Exactly is Diagnostic Medical Sonography?
At its core, a Diagnostic Medical Sonographer is a medical professional who works under a supporting physician to provide diagnostic imaging for medical procedures and diagnosis of disease processes.
This type of non-invasive procedure is growing increasingly popular in the modern healthcare landscape. For one thing, it's a lot cheaper and safer to use a camera to see inside an individual's body than to have to cut into the person to get a sense of what's going on. And as healthcare organizations seek to optimize care, the quicker (and more safely) a person can get in and out of a doctor's office, the better for the patient.
Pregnancy…And Then Some
One of the biggest misconceptions about sonography is that sonography is only for pregnant women. The reality is, depending on your job location, obstetrical ultrasound may be a very small portion of your daily activities.
Diagnostic medical sonographers can become certified in abdominal and small parts sonography, OB/GYN, Pediatric, Breast and Vascular Ultrasound. That's a wide range of potential areas of practice, but tests related to each of these disciplines are all important in their own way.
Depending on the certifications held by the sonographer, his or her day may include everything from ultrasound of the thyroid to guide for a biopsy of a complex mass, an examination of the breast to determine if a palpable mass is cystic or solid, and yes, even an abdominal ultrasound on a pregnant patient. Absolutely no two days are alike because no two patients are alike. Your life is guaranteed to be enriched by interactions with patients of all ages, shapes, and sizes!
But You Said Diagnostic Medical Sonography…Where Does Multispecialty Fit In?
You may have noticed that our degree page describes our program as a Multispecialty Sonography program. A Multispecialty Sonographer is a Diagnostic Medical Sonographer, one who specializes in multiple areas of sonography. The term "multispecialty" shows that you have the ability to conduct tests related to different parts of the body.
The great news for you is that, even though you'll be examining a person basically from head to toe, the education necessary to enter this career can be completed in less than two years. That means that, if you had started last fall, you could have a job conducting sonograms before Star Wars: Episode VIII comes out! (May 26, 2017 if you're curious)
If you want to further your education, you have that option as well with a bachelor's degree in Women's Medical Imaging. This program includes the same coursework for the Associate degree in Multispecialty Sonography but lets you keep working toward a Bachelor's degree centered on women's health issues. The best part is you can take these online Bachelor's level classes after you've already gotten a job thanks to your Associate degree.
The Image-Conscious Job
The healthcare community has an image to uphold, and with a degree in Multispecialty Sonography, you could be the one taking that image. Download our degree guide for more specifics about what it means to be a diagnostic medical sonographer, and remember that the fast-track to a hospital or a clinic runs through Nebraska Methodist College.