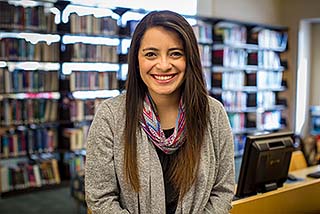 Abby's parents always wanted the best for their children – even if that meant making the tough decision to move from Mexico to El Paso, Texas, as undocumented immigrants when Abby was just six years old.
After several formative years, the family was deported to Ciudad Juarez, Mexico. Both Abby and her sister, Claudia, remember this as the lowest point in their educational careers.
"Going back to Mexico was our hardest journey. We were used to English and the American education system. We were in shock," said Claudia.
Despite deportation, eight year-old Abby stayed focused in school and spent time at the local hospital where her family members worked.
"I would hang out at the hospital because that's where my family worked. I was fascinated by the nurses and their variety of bedside manners. They knew how to help, and they knew more than most," she said.
It was here that Abby learned the lessons that would lead her on an extraordinary journey to Nebraska Methodist College and American citizenship.
Coming (Back) to America
The hospital was a treasure trove of knowledge for Abby, but her parents were still determined to give their daughters an opportunity to receive an education in the United States. They worked hard and researched schools that would accept both her and Claudia. The private school in Texas they found was expensive, but it gave their daughters the rare privilege of receiving student visas.
"There was only one other Mexican at my school with the same visa. It was very expensive and difficult to get them," Abby said.
Opportunities like this were close to unheard-of for families like Abby's due to the expenses of private school and the difficulty of daily trips across the border. Her family was grateful for this chance. It would cost a lot of money and mean extra work for everyone, but it was their shot to provide a wonderful education experience for their daughters.
With support from their family back home, Abby and Claudia quickly adapted to the new school. Their knockout grades and effort earned them student visas every year until they graduated.
The family was grateful but nervous at the looming prospect of college and what it would mean for their daughters' visas. They would need to find a school that was Student and Visitor Exchange Program-approved and complete a rigorous interview process to qualify for the visas.
"As a Mexican citizen, it's hard to get into college in the U.S. because we can't get any help from the government. You have to pay everything out of pocket or get a scholarship." Claudia said.
Abby and her sister wanted to attend colleges in the United States and become citizens legally. Since they were both passionate about healthcare, they researched schools until they found Nebraska Methodist College, which offered scholarships for international students.
"Claudia and I kept reading great recommendations for Methodist College, and when we got a scholarship through the Methodist Church we had to go," Abby said.
When both Abby and Claudia were accepted to NMC, their parents were overwhelmed with joy, even though it meant both of their daughters would be thousands of miles away.
"My parents were scared because they knew no one would be there to watch over us, but it was such a blessing that they couldn't say no," Claudia said.
Life at Nebraska Methodist College
"It can be difficult to have my parents so far away, but they always call me to motivate me and listen to my problems," Abby said.
As an international student, Abby has to follow many rules and regulations. For instance, she must live and work on campus.
For most students, the idea of working, sleeping, eating and going to nursing school all in the same place may seem limiting, but Abby dove in head first and used it to her advantage.
"It took me a bit to find what parts of the school fit me best, but I found my niche," she said.
In her time at NMC, she has worked at Deja Brew (the college's go-to cafe), the Bookstore and now the Clark Center front desk, the primary help desk at the college.
"I like the desk because I know so much from being here all the time that I can help anyone who has a question," Abby said.
Above and Beyond
Helping strangers is the root of Abby's passion, so it wasn't a surprise to her family and friends when she championed two blood drives at the college. When she took over as blood drive coordinator, the campus nearly doubled its amount of donations. The school even added a third drive in the winter.
"Working with the American Red Cross, I could see how much they were in need and it inspired me," Abby said.
Working diligently to sign people up to donate, she reached out to her team of peers and teachers at NMC and explained to them how much a donation helps, especially at times of high demand for the Red Cross.
"It was easy for people to agree because they knew me, and they knew it was going to a good cause," Abby said.
The blood drive isn't the only time Abby shined at NMC. Her ability to speak Spanish has been a huge benefit to patients during clinicals.
During her time in the Mobile Diabetes Center (MDC), a traveling clinical site that performs a variety of health screenings across the Omaha metro area, Abby's ability to communicate with patients proved crucial when providing services in predominately Spanish-speaking communities.
"When someone speaks Spanish and I can respond, I can tell they feel a huge sense of relief," Abby said.
Citizenship Closer Than Ever
With the goal of becoming a nurse within her reach (she plans to graduate next May), Abby is beginning to realize her dream of becoming a U.S. citizen.
As Mexican citizens, Abby and Claudia are required to find sponsors, jobs that will agree to keep them on for six years, after which she and her sister can begin the year-long green card application process. Once they have green cards, they can apply to be a U.S. citizen.
Claudia recently graduated from the Respiratory Therapy program and is a already a year into the process. She's proud of her sister's journey too, and we thought it's only appropriate that her own words close out her family's incredible story.
"Abby has inspired me so much. She's always busy with classes, clinicals, and church but always finds time to help others. She's going to make an awesome nurse," Claudia said.