Nebraska Methodist College welcomed its latest line of nursing and allied health graduates at its second virtual commencement of 2020. The ceremony took place on December 11 under the social distancing guidelines of the COVID-19 pandemic.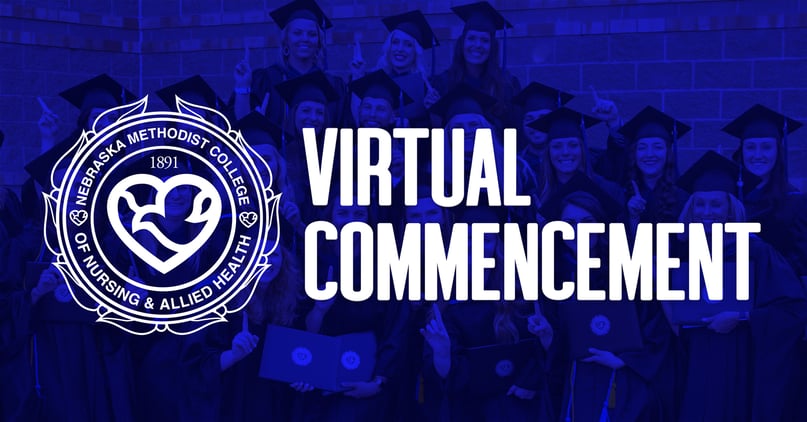 The ceremony honored the accomplishments of 75 nursing and allied health graduates who have the skillset, mindset and heartset to be outstanding healthcare professionals. We proudly welcome each one to the ranks of NMC alumni!
"The resiliency and dedication of this class during the tumultuous year is truly amazing," said Jenny Christian, Student Engagement Coordinator at Nebraska Methodist College. "I'm so proud of each and every one of them!"
Click below to watch NMC's Fall 2020 virtual commencement.
Here is the list of graduates with their degrees and special honors acquired:
Doctor of Education in Leadership & Healthcare
Stephan Wade Baker
Aimee Janelle Black
Samuel Keith Bland
Janice Bradley-Lapina
Alice Burron
Christopher Todd Carroll
Susan Lynne Cooperider
Joseph Edward Davis, Jr.
Ashlee Michelle Ericksen
Michael Anthony Frianeza
Melanie Jean Giusti
Pamela S. Greenstone
Nellie Elizabeth Johnson
Rene Painter-Claypool
Danielle Peterson
Rachel Shirk
Mary Simonetti Cowgill
Serrina Kristina Smith
Chaundra D. Suddith
Becky Varndell
Master of Business Administration in Healthcare
Diana Elaine Christensen
Heather Dostal
Joseph Preston Driewer
Taylor Marie Kineslla
Bachelor of Science, Diagnostic Medical Sonography
Julia Paige Pleskac **†
Bachelor of Science, Health Studies
Dawn M. Belik
Bachelor of Science, Imaging Sciences
Cali Langenfeld **
Bachelor of Science in Nursing
Wilfrida Abaga **
Lorelle Andersen
Anna M. Ballard
Mckenzi J. Bay *†
Samantha Brown
Jennifer Chrstine Burwell *
Stacy Jonelle Campbell *
Jayde Kaylynn Carstens *†
Shelby Ann Cheatum
Desaray Crampton
Donovan A. Halfhill
Mercedes Harwood ***
Hannah Clary Hartline
Kylie Danielle Hawk
Molly Marie Hawk **
Krystle Nicole Huron
Molly Janecek
Tanna Beverly Jensen **
Patrick Scott Kean
Rachel Quinn Kostal
Abbey Elizabeth Lacy
Brandyn Marie May *
Jennifer Jean Morse **
Katlyn Neill
Mispa Kellypride Bih Ngantar
Van Thi-Hong Nguyen *
Megan Marie O'Brien *
Meranda Olson
Julie Sue Phillips
Shelby Danielle Radicia
Sara Randolph **
Lucas Eugene Richardson
Samuel Reed Ridgeway
Annie Rodgers
Jane Rodgers
William A. Rose
Emily Ryan *
Kami J. Scharer **
Bradley Shearer
Jessica Marie Smith
Corinne Swarbrick ***
Miles Thomas
Taylor Venegas
Courtney Joy Weaver
Sydney Lynn Wegner ***
Jade Wichmann *
Shelby Wilson **
Mikayla Brooke Wilson ***
Baccalaureate Honors Designation
*** Summa Cum Laude – cumulative GPA of 3.87 to 4.00
** Magna Cum Laude – cumulative GPA of 3.64 to 3.86
* Cum Laude – cumulative GPA of 3.50 to 3.63
Associate or Certificate Honors Designation
◊◊◊ Highest Distinction – cumulative GPA of 3.87 to 4.00
◊◊ Distinction – cumulative GPA of 3.64 to 3.86
◊ Honorable Mention – cumulative GPA of 3.50 to 3.63
† Educated Citizen Honor Society