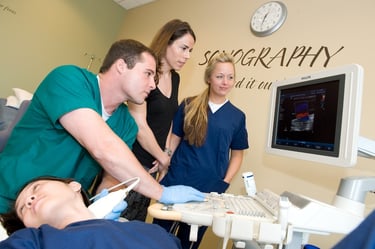 Have you ever played one of those touchscreen games that puts two photos next to one another and tasks you with figuring out the differences between the two? Are you currently wondering why a nursing and allied health college is referencing a pub game?
The reason we bring up the game is because it gives a brief idea of what it's like to be a cardiovascular sonographer. If you're keen on surveying a scene and picking out what's wrong, you love puzzles or you pride yourself on being able to solve the television mystery well before Bones or Benedict Cumberbatch are able to, then this might be the career path for you.
This dynamic career is possible with completion of a two year Associate's degree program (and the American Registry of Diagnostic Medical Sonographers exam your classes prepare you for). According to the Bureau of Labor Statistics, job outlook for these types of employees is expected to grow by a whopping 39% between 2012 and 2022, much higher than the average across all occupations. And with a 2014 median salary of $54,330, according to O*Net Online, this can be a financially stable career as well.
Sound Advice
When most people think of ultrasound, they think specifically about babies, but that's actually only one aspect of sonography. You can perform an ultrasound all over the body, and this procedure often proves vital under a number of circumstances.
A Cardiovascular Sonographer (or technologist) specializes in ultrasounds of the heart and the blood vessels (veins and arteries). If you choose to enter this field, you'll scan blood vessels in the neck, arms, legs, abdomen and the heart.
You'll use doppler (yes, kind of like your local weatherperson, albeit with results that tend to be far more reliable) to assess blood flow throughout the body. Your equipment will allow you to visualize the chambers and valves of the heart along with the veins and arteries that connect to it.
Actually conducting the ultrasound is only part of the job. You'll also be responsible for conducting an initial assessment of the image once it's been acquired. You're basically the first person who might be able to spot blockages, blood flow irregularities and other medical conundrums related to the blood vessels or the heart. That means you'll sometimes get to have your very own Dr. House "eureka" moments.
A Day In The Life
Wake up, get out of bed, drag a Doppler across the patient's head (Beatles reference for the win!).
What's great about being a cardiovascular sonographer is that no two days are alike. Sure, you may conduct similar procedures from one day to the next, but the differing nature of every case and patient means that you'll always be surprised by your job. That might stress some people out, but it's perfect for an individual who thrives on diversity in their work environment.
That said, there are certain procedural standbys you'll become intimately familiar with. These daily duties may include:
Performing echocardiograms (think of it like a bat in a cave, except instead of a cave, it's a patient's cardiovascular system, and instead of a bat, it's a transducer)
Venous and arterial examinations
Measuring blood pressure to monitor arterial circulation
Interpreting findings
Writing reports on exams and their results for submission to a cardiologist, vascular surgeon or radiologist
Transporting patients
Comforting patients during tough situations
Location Location Location
As a cardiovascular sonographer, you could work in a number of different settings. These include hospitals, clinics or even third party organizations that specialize in performing screenings.
Most sonographers' schedules allow for a typical 9-5ish workday, but because a physician might need to order an exam after-hours due to some kind of emergency situation, there may be times where you're required to be on-call. Getting called in isn't an everyday occurrence, but it's still not terribly uncommon to be asked to work during nocturnal hours (also like a bat).
After a couple years of industry experience, many sonographers elect to pursue a Bachelor's degree to progress their careers in the field. At Nebraska Methodist College, we've found that individuals who've embarked upon a sonography career are typically drawn to a degree in Healthcare Administration. Attaining this degree could allow a sonographer to become, for instance, the manager of a sonography lab.
Do You Have What It Takes?
This exciting role will only grow more so as disease prevention becomes the standard across the medical world. Cardiovascular sonographers can make a big difference in the lives of so many people. For a person who's a good fit, this can be one of the most rewarding careers out there.
Does cardiovascular sonography seem like the right fit for you? Then download our degree guide to learn even more about the Associate of Science in Cardiovascular Sonography at NMC.