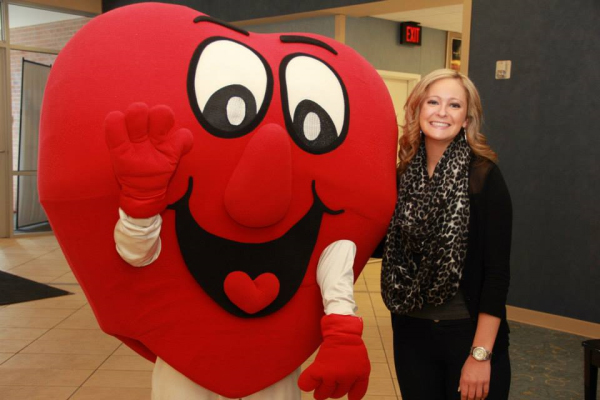 Nebraska Methodist College student Ashley Powers has a congenital heart defect, but you would probably never know it.
"I just don't let it stop me from doing anything," Powers said.
Powers was born with two holes in her heart, transposition of the great arteries and stenosis of the pulmonary valve. She had her first heart surgery when she was just five days old, and her second heart surgery at the age of 3.
But since then, Powers has lived a pretty normal life, including playing sports like volleyball, softball and track, and pursuing her dream of a career in nursing. That's a message she likes to share with other children born with congenital heart defects as well as their parents. Powers' message carries even more weight this month. February is American Heart Month, which is devoted to heart health awareness.
"Even though it's been very hard and taken a lot of determination, we kids can do it," Powers says. "We can still grow up and be whatever we want to be."
Powers, who just celebrated her 22nd birthday Feb. 19, is currently proving that point. She is a student in Nebraska Methodist College's traditional nursing program and currently works in the radiology department of Children's Hospital & Medical Center.
"I constantly get to see all the heart patients, and I absolutely love it," she said. "I always want to help and talk with them and give them the hope that they need."
Powers said her own experience of growing up and receiving regular checkups for her heart at Children's is what inspired her to pursue a career in nursing.
"I really fell in love with nursing because it's really such a caring point," she said. "You are with the patient through everything."
Powers said her inspiration is Jenny Strawn, a nurse at Children's. Strawn has been Powers' nurse since she was a day old. Powers still continues to see Strawn to this day when she goes in for her regular checkups.
To Powers, American Heart Month is a chance for people to take time to understand all kinds of heart ailments. She said people should understand that heart conditions can affect everyone — young and old, male and female — and they aren't just limited to heart disease and heart attacks. However, as Powers illustrates in her own life, heart conditions don't have to get in the way of living a normal life. With proper care and regular checkups, those with heart conditions can still live active lives and pursue their goals.
Ashley has formed a team to walk at the American Heart Association Heart Walk on May 10. If you'd like to join her team, you can register below.