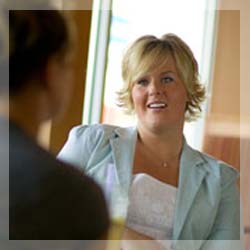 Tis the season for costumes of all kinds — zombies, vampires and witches, among many others. However, if you have an upcoming job interview, unlike your Halloween costume, it's important to choose an outfit that won't scare away your future employer.
Like it or not, an employer's first impressions of you will be formed within the first minutes of meeting you. What you choose to wear can go a long way toward getting your interview off on the right foot.
Whether you are just starting to apply for jobs or already have one or two interviews lined up, here are a few dos and don'ts to picking out what to wear to make a good impression on your potential employer:
Business dress is best. Choose a business suit, especially when interviewing for upper-level positions. For entry-level positions, women should wear a blouse with dress pants or a tailored skirt, while men should wear a shirt and tie with slacks. Avoid wearing low-cut shirts, tight or short skirts, and avoid dressing too casually.
Think conservatively. Choose clothing in darker colors, like navy, black or gray. Avoid wearing flashy colors. Wear conservative dress shoes that are business appropriate. Make sure to shine your shoes before your interview to get rid of any scuffs.

Leave the bling at home. Little to no jewelry is best. Especially avoid dangling jewelry like earrings or bracelets that can be distracting.
Use makeup and perfume in moderation. Wearing makeup and perfume (or cologne for men) is a good idea, but don't overdo it. Too much makeup can send the wrong impression, while too much perfume can be annoying to your interviewer.
Confidence is key. Above all, you want to convey confidence to your potential employer. Choosing an outfit that you are most comfortable in will help you appear confident in your interview.