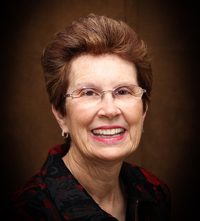 Dr. Lin Hughes is the Dean of Nursing at Nebraska Methodist College. Hughes has extensive experience in both nursing and education. She has worked for 42 years as a nurse and 30 years as an educator. Hughes took time this week to discuss her career, advice for nursing students and what makes NMC special.
What is your background in nursing, and what has been your career path to becoming the Dean of Nursing at NMC?
Oh my, where to start? My husband was a pilot in the Air Force so we moved about every three years. Nursing is wonderful as a career because of its flexibility. I started out as a surgical nurse in an eight-room operating room in Colorado Springs, Colo., then became the charge nurse on an orthopedic-neurologic unit in Valdosta, Ga. I took critical care courses and next became the charge nurse in the pediatric unit, emergency department and intensive care unit at a rural hospital in Caribou, Maine, for more than three years.
We moved to Rapid City, S.D., where I worked on a progressive step-down unit and started my journey in teaching. I started my MSN (educator focus) and taught at the diploma school associated with Rapid City Regional Hospital, then at the diploma school in Dayton, Ohio. Our next move was to Moreno Valley, Cal., where I taught nursing at Riverside Community College and finished my MSN at Loma Linda University. I also worked supplemental in intensive care units there and became the supervisor at Riverside Nursefinders.
Our next military orders were to Offutt Air Force Base. I started in the MICU at Methodist Hospital and started teaching at Nebraska Methodist College. I continued to work supplemental in the ICU and teaching full time. In 2002, I received my PhD from UNMC. In 2006, I became the BSN Nursing Director at NMC and was mentored by Dr. Marilyn Valerio. In 2012, I became the Dean of Nursing.
You've worked both as a nurse and an educator for much of your career. How did you manage to do both?
I have worked for the last 22 plus years in the Methodist Hospital critical care unit and became certified in critical care 20 years ago. About nine months ago, I decided to devote the time to my present role as dean and gave my notice. I worked casual status/supplemental in ICU while teaching at NMC. The critical care supervisor was very flexible with my schedule on the weekends because of my full time position at the college. I thought that it was important to keep my skills current while teaching as an educator.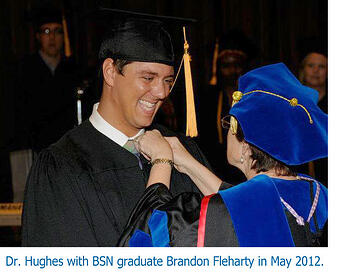 What is the most common piece of advice you give to your nursing students?
I just spoke to the NRS445 and NRS446ACE classes about the importance of forming a plan for future education and promoted lifelong learning. I stressed the impact that joining professional organizations can have on a career in keeping abreast of best practices, developing leadership skills and networking. The greatest advice for our nursing students would be to keep caring, knowledge and safety at the center of their nursing practice.
What sets Nebraska Methodist College apart?
NMC is special because of our focus on the individual student and wanting to develop every student into the best healthcare practitioner — one with a heart to care for each individual patient.
What do you like to do outside of your job at NMC?
My family of four children, four grandchildren and husband is my main focus outside of NMC. We do enjoy each other — whether playing soccer in the backyard, watching the grandchildren play sports, or hiking at our cabin in Colorado (despite the recent 12 inches of rain and no roads). I love to read, cook, entertain and work out at the YMCA whenever time permits.