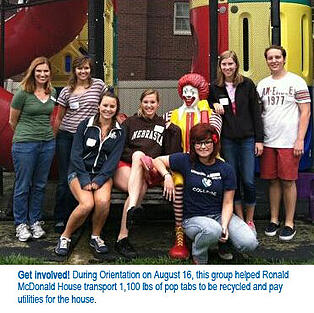 For freshman, the first few weeks of college are often a combination of fun and stress. You are living on your own for the first time, meeting new people and — most importantly — learning a lot of new things to set you on the path toward your career. Any one of those things can be either exciting or overwhelming, depending on your point of view.
It is important to get off to a good start and settle into your new life as a college student in the first weeks. Here are a few pointers to help you start off strong:
Go to class. You have probably heard this a hundred times by now, but this is the single most important thing you can do at college. It's why here are here. One college class is filled with a lot more information than your average high school class, so attending each one is important.
Make a schedule and don't procrastinate. Keep a planner of when you have class and when your assignments are due. Also, don't wait until the last minute to study or finish an assignment.
Meet new people. College is a chance for you to make new friends who share your passion. Your new friends will also become your support group when things get stressful. Seek out social activities or student organizations on campus where you can get to know your fellow students.
Stick around on the weekends. The first weekends of the school year are a great time to connect with your new friends outside of the classroom.
Explore your surroundings. If you are new to Omaha, go see a movie, watch a concert or go walk around downtown and get acclimated to the area.
Take care of yourself. Eat healthy and exercise to avoid the "freshman 15." If you're looking for a place to work out, try Nebraska Methodist College's fitness center. Also, make sure you're getting enough sleep.
Have fun! College is a great experience on many levels. Enjoy it and make the most of your opportunities.