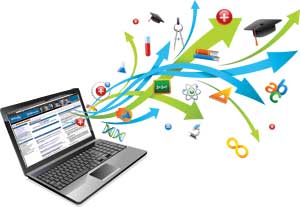 The Fall 2013 session of online courses recently began at Nebraska Methodist College. We thought it appropriate during this back-to-school season to share some helpful tips to being successful in the virtual classroom:
Make your online course a priority. Take your online course just as seriously as if you were in an on-campus class. Your GPA can't tell the difference. Be aware of all your assignments that are due — not just tomorrow, but over the coming weeks.
Manage your time. Online classes are great for working professionals with unpredictable schedules, but make sure to schedule study time every day to log into your online course. Try to set a routine study time each day. Work and family interruptions happen, but the routine will help you study consistently.
Make a study space. Study in a place where you can get away from distractions. Doing your coursework in an at-home office setting or at your local library is a good alternative to the couch in front of the TV or trendy coffee shop.
Read your course syllabus closely. It will lay out clearly the course expectations, grading, required textbooks, learning tools at your disposal, and required hardware and software for the course. Your syllabus is your course manual.
Back up your work. Before submitting your assignments, save them on your computer and back them up on a flash drive. Sometimes glitches happen and backing your work up multiple times will protect you from having to do it over.
Be involved. In online courses, participation is often a big part of your grade. It's also where learning takes place. Login every day and take time to be part of the discussion.
Have a study buddy. Make a friend in the course with whom you can discuss questions and assignments either offline or through other channels.
Ask questions. If you are having trouble with an assignment, don't be afraid to ask your professor about it. If you are having software problems, ask our Education Technology Department. (Have questions right now? Visit our Online FAQ.)
Use what you learn! Take what you learn in your online course and apply it in your real-world career.