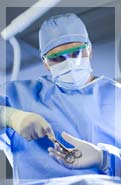 Today's surgeons perform advanced procedures that save lives in ways we may have never thought possible years ago. But surgeons can't do it alone.
So what is a surgical tech?
At the surgeon's side is the surgical technologist, more commonly known as surgical tech. Surgical techs are the right-hand person of surgeons in the operating room. They set up the operating room for surgical procedures, making sure that all needed tools and equipment are available and working properly. Surgical techs then assist surgeons during surgery, doing everything from handing them instruments to cleaning and closing wounds.
Being a surgical tech can be fun and exciting, but it may not be for everyone. The job in many cases is not for people squeamish at the sight of blood. While some surgeries are routine, others can be stressful situations demanding quick and efficient work in order to help save a life. However, the job is equally rewarding to know that you have helped to make a difference in someone's life.
"You may be doing surgery on a patient who has a brain tumor, and it is a great feeling when the surgeon is able to successfully remove the patient's tumor allowing them to lead a normal life," says Christy Grant, Nebraska Methodist College Surgical Technology program director. "Knowing that you had part in that procedure and made a difference for that patient is amazing."
Surgical Tech Skills Needed
Composure --Working in an OR can be a highly stressful. The ability to maintain calm and composed in high-pressure environments will help you be successful in this career.

Endurance -- as part of a surgical team, surgical technologists need to be comfortable standing on their feet for an extended period of time and have the ability to work quickly and accurately for long hours.

Details oriented -- Surg techs need to have the ability to pay close attention at all times to ensure procedures are performed safely and efficiently.
What is a surgical tech's salary?
The Bureau of Labor Statistics indicates that the median surgical tech salary in the U.S. in 2010 was $39,920 per year, with an average projected job growth until 2020 of 28 percent. Demand for surgical techs varies from area to area, but currently, the job is in high demand in the Omaha area with many job postings available.
Nebraska Methodist College's Surgical Technology program offers students small class sizes that allow students more one-on-one learning opportunities with instructors. The program has affiliations with nearly every institute in Omaha to give students the chance to get a wide variety of experience in surgical specialties.
Nebraska Methodist College's Surgical Technology program also has a 100-percent employment rate. Students often get jobs either before or soon after graduation.