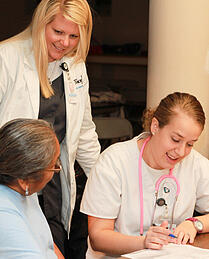 NMC student and faculty assist a community member during a Mobile Diabetes Center outing.
As a nursing and healthcare professions college, next week — National Public Health Week — bears a special significance to us at Nebraska Methodist College.
National Public Health Week, April 1-7, is an opportunity to recognize those who contribute to public health and to raise awareness of health issues affecting our local community, state and nation. This year, National Public Health Week has five daily themes:
Monday, April 1: Ensuring a Safe, Healthy Home for Your Family

Tuesday, April 2: Providing a Safe Environment for Children at School

Wednesday, April 3: Creating a Healthy Workplace

Thursday, April 4: Protecting You While You're on the Move

Friday, April 5: Empowering a Healthy Community
The topic of public health encompasses so much of what we do at Nebraska Methodist College. First and foremost, preparing students to make positive impacts on the health and well-being of their communities is at the heart of our mission. Each of our programs equips students with the skills to make a difference in their chosen field, whether as a nurse, educator, administrator, or a professional in an Allied Health career. No matter what field, all healthcare professionals play vital roles in maintaining a high quality of public health through the treatments, tests, knowledge and expertise they provide.
Nebraska Methodist College also works to improve public health in the greater Omaha community through the outreach of our Center for Health Partnerships, including programs such as our Mobile Diabetes Center and Our Families' Health. The Mobile Diabetes Center provides important diabetes-related health screenings in a variety of urban and rural areas. Our Families' Health works to provide area Latino communities easier access to healthcare resources and services.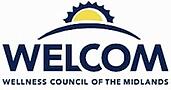 In striving to improve public health, we like to practice what we preach as an organization. Nebraska Methodist College is proud to be recognized by the Wellness Council of the Midlands (WELCOM) as a Platinum Level member of its Nebraska Well Workplaces.
The Platinum Level is WELCOM's highest recognition for workplace health promotion, which only a small group of companies and organizations have achieved. The award is the result of the college's strong focus on health and wellness promotion in its organizational culture. Nebraska Methodist College has maintained its Platinum Level status for the past six years.