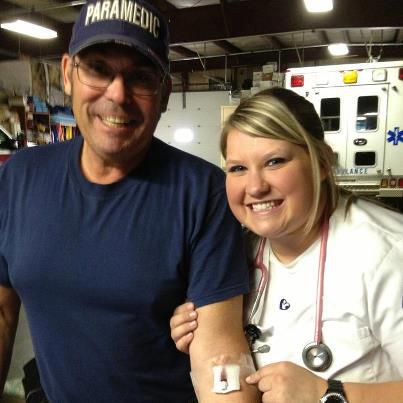 Nursing student,

Jori Reeves, and her paramedic partner/driver on the Rosebud Reservation during the fall fall break immersion.
Sometimes, a job is just a job. It pays the bills, puts food on the table and keeps the lights on. But sometimes, a job is more than that. It's a career, a passion, an opportunity to make a positive difference for others and in the world around you.
Giving Back
At Nebraska Methodist College, students have a lot of opportunities to get their feet wet in the different roles they might have in their chosen career path. But they also have opportunities to experience the positive impact they can have in the lives of others using their skills.
A big example of these opportunities is NMC's Service Immersions, which are offered during the fall winter, spring and summer breaks. Recently, a group of NMC students participated in the Rosebud Service Immersion during fall break. From Oct. 7 to 12, the group traveled to the Rosebud Indian Reservation, located in South Dakota just north of Valentine, Neb.
During the trip, NMC students got a first-hand look at many of the public health-related challenges that exist on the Rosebud Reservation, while also having an opportunity to make a difference. Students worked with Indian Health Services as well as several community agencies, such as a local women's shelter and an alcohol and substance abuse recovery ranch for youth. Students had the opportunity to work in actual hospital settings or with a community nurse who served local schools and did home visits. Several students also had the opportunity to help on ambulance calls.
"It re-lit a spark in me..."
For some students, the trip was a revealing experience about the health issues that exist on the reservation, including those related to drug and alcohol abuse. For others, the trip was inspiring and reaffirming that through their chosen career path they could have positive and meaningful impacts on the lives of others.
Here's what a few students said about the trip:
"Personally, this experience has been a real eye-opener and wake up call to a lot of the issues facing Native Americans. It has made me really want to reach out and help these people in order to help them to get ahead in life and help with the healing process."

"This trip has affected me in a way that is even hard to put into words. It has re-lit a spark in me that has been out for a while now. Coming on this trip, I wasn't sure I was going to be continuing nursing in the spring. However, this opportunity has once again reminded me how much I want to care for and help others."

"I learned that I have a really deep desire to reach out and serve individuals that are in the greatest need."
The Service Immersions are part of NMC's mission to transform students into educated citizens and to give them a greater holistic perspective of not only the world around them, but their relation to it and the impact they can have on it.
We're Not Done Yet
More Service Immersions are planned for this school year. In January, a group of NMC students will travel to the border town of Laredo, Texas, focusing on diabetes prevention and health issues related to immigration. Students will work with Habitat for Humanity and the Sisters of Mercy.
In March, another group will travel to Nashville, Tenn., where they will be working with the Nashville Mobile Market and the Martha O'Bryan Center educating individuals on healthy food choices and how nutrition affects health.
For more information about NMC's Service Immersion offerings, please visit our Volunteer Opportunities page. If you have participated in a Service Immersion at NMC, please tell us about your experience in the comments below.