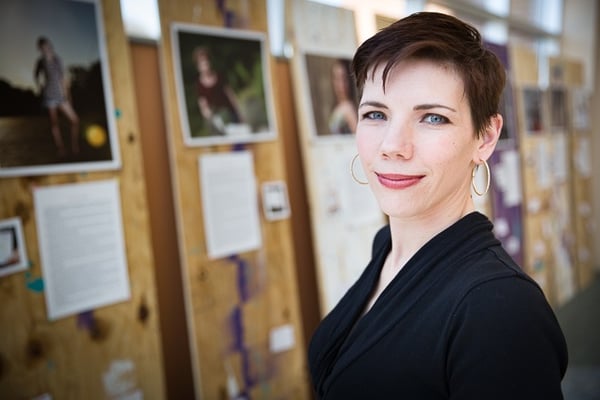 According to U.S. Department of Justice, every 98 seconds another American is sexually assaulted. And, it is likely that over the course of a lifetime, one in every six women in this country will be the victim of an attempted or completed rape.
We may know some of the numbers related to sexual assault, yet we typically know little or nothing about the victims and the impact of the assault.
Teresa Prince Conway, a Nebraska Methodist College alum and adjunct faculty member, has set out to change that. Her compelling photo exhibit, called "Survivor Stories," debuted at NMC on April 1. April is Sexual Assault Awareness Month, and the exhibit is one of the awareness activities on campus.
Teresa's desire to create the exhibit came from her own personal experience.
"I was a junior in college studying photojournalism when I was raped," she explained.
Teresa felt that because news reports so often omit sexual assault victims' names, they weren't being seen as people but almost as ghosts. Where are the names and photos of these real people? Where are their own stories of the impact of the assault and the transition from victim to survivor?
A year after being raped, Teresa stood onstage at a "Take Back the Night" rally and spoke about being sexually assaulted.
"I confessed to the anguish and self-loathing I'd felt ever since," said Teresa. "But when I stepped off that platform, I didn't feel anything but pride and relief. My friends — some made that very evening — immediately enveloped me in hugs. I was safe, happy and loved."
Since then, Teresa has focused her photojournalism talent, personal experience and passion to give voices to many of the men and women who have survived sexual violence. She vows to never stop "shattering the silence" and hopes to publish their stories as a book.
In the meantime, Teresa said she is honored and proud to hold the debut of "Survivor Stories" at Nebraska Methodist College, her alma mater. Teresa graduated from NMC with a degree in multispecialty sonography in 2014, and she is an adjunct faculty member here.
In both of her professional roles, as a sonographer and as a photographer, Teresa connects with people. There is a special level of intimacy and trust associated with sonography and with her ongoing work on "Survivor Stories."
Exhibit attendees will have the opportunity to share their own experiences — anonymously, if preferred — by adding personal messages to the "What's Your Story?" board that Teresa has provided.
"Survivor Stories" will be on display at NMC in the Clark Building dining area during business hours in April.
---
Sexual Assault Awareness Month Guest Speaker at NMC on April 24
Jen Tran, MSN, SANE-A, FNE, Coordinator for the Heidi Wilke SANE/SART Survivor Program at Methodist Hospital and Methodist Women's Hospital, will be speak at Nebraska Methodist College on Tuesday, April 24, from 11 a.m. - 11:45 p.m. in the Clark Building, Room 3216/3218.
She will speak about sexual assault trauma, its impact on survivors, and how the specialized care and follow-up provided by this program helps to facilitate recovery.