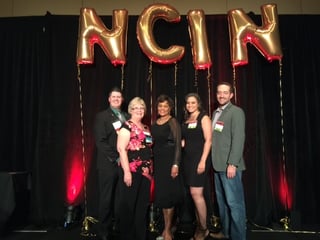 Nebraska Methodist College prides itself on graduating students who can make a real difference in the community. Recently, a number of our grads saw their compassion and excellence in nursing take them to the biggest stage of all: our nation's capital.
Four of NMC's nursing alumni were invited to attend the New Careers in Nursing Grand Finale Summit in Washington D.C. While there, they got to hear speeches from and rub elbows with some of the most respected leaders in nursing today.
Jed Hansen, an NMC graduate and currently the Clinical Implementation Specialist with the Nebraska Health Information Initiative, was one of the distinguished scholars whose remarkable achievements allowed him to take part in this incredible event.
Jed (pictured far right with, from left to right, Blake Smith, RN, Dr. Susie Ward, PhD, RN, Dr. Vernell P. DeWitty, PhD, RN, and Rachel Curry) was kind enough to share with me a few words about the conference, the college, and his experiences as a BSN-qualified nurse. His thoughts speak to the kind of initiative our alumni are taking in the world.
Acing The Curriculum
Jed, because of his ability to meet a high set of scholarly criteria established by NMC, was awarded the Robert Wood Johnson Foundation New Careers in Nursing (NCIN) scholarship. The program is a joint project of the foundation and the American Association of Colleges of Nursing. As an NCIN scholar, Jed received mentorship and a variety of other resources during his time at the college.
"From the onset of my involvement with NCIN, the program has provided me with some truly amazing experiences.
"I found the mentorship program particularly rewarding, as I was able to meet one-on-one with a Nurse Manager while going through the accelerated program. Her insights into the rigors of nursing school and then helping me transitioning into a career in nursing were invaluable."
As mentioned, Jed was a part of NMC's Accelerated Nursing program, known colloquially as ACE. This degree path is designed for persons who already have a degree in another field, and it allows students to attain their Bachelor of Science in Nursing within 12 months, a timetable that can prove daunting and exhilarating in equal measure.
"Being in the accelerated program at NMC was both one of the most challenging and rewarding times of my life. Having attended a state university for my first degree, I wasn't sure what my educational experiences would be like while attending a private college such as NMC.
"The leadership, faculty and staff throughout the college have helped shape NMC's nursing into an industry-leading program. I truly believe that there is no better place throughout the Midwest that helps foster the skills, compassion, and leadership needed in today's nurses. The faculty and staff at NMC were there to support me – not just as a student, but as a person - through the entire nursing program."
Mr. Hansen Goes To Washington
Since graduating NMC, Jed has continued to exhibit the traits of nursing excellence consistent with the standards set by the college. And that's precisely what led him and his classmates to our nation's capital.
"I've been able to attend several conferences and give back to NMC as a speaker for the NCIN Leadership sessions. Dr. Susie Ward, Director of Special Programs at NMC, approached me about representing NMC as a Legacy member for the NCIN Grand Finale Summit in Washington D.C.
"Each day, the summit attendees met to hear from nursing leaders from around the country. Guest speakers included executives from the American Nurses Association and the American Association of Colleges of Nursing, along with distinguished faculty from Yale University, University of Rochester, Stony Brook University, along with others. Dr. Ward spoke on the challenges and rewards of building New Alliances and Partnerships in nursing.
"Besides hearing from some of the leading minds in nursing, we also had plenty of time for good food and conversation. During the social events I had the fortune of meeting and networking with some truly amazing nurse leaders. I left the conference truly humbled that I was able to represent NCIN and Methodist College at the event."
Leading the Way Into the Future
Now back in Nebraska, Jed has fond memories of his time at NMC.
"Since becoming a registered nurse, I have been afforded some wonderful professional experiences that have spanned the entire nursing spectrum. My successes have been, in large part, due to the faculty at NMC and wonderful opportunities to grow as a nurse leader through NMC and the NCIN program. I am grateful to both in helping in my successful transition to nursing.
"For the NCIN program, the success was in the resources they provided that allowed me to connect with nursing leaders in my community. For Methodist, I felt the entire accelerated program was designed for me, as a student, (to learn) how to be a thoughtful, educated, and caring nurse.
"The bridge in these programs was Dr. Susie Ward. She was personally dedicated to helping me succeed early on as a nursing student and has continued to invest her time and energy in my professional career. She truly embodies the values of Methodist College to care for and develop each student that walks through its doors and in the NCIN program's design to build nursing leaders.
Our faculty no doubt appreciate the kind words, but what we're truly excited about is the great work that Jed and his fellow NCIN scholars will inevitably accomplish in their careers.
Thank you, Jed, Blake, Greg and Rachel for holding yourselves to the highest standards and representing the college and your profession in such a wonderful manner. Your work will act as inspiration to the countless other nursing students who are looking to effect change in the world.