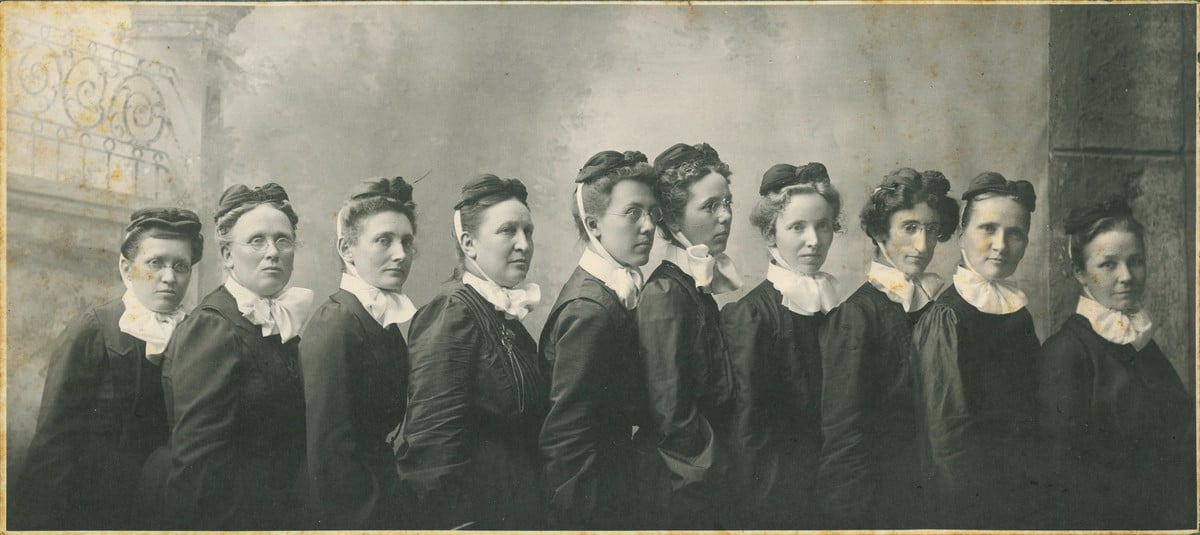 Who managed the first Nebraska Methodist Hospital and its School of Nursing, assisting with nursing services and nursing education? Methodist deaconesses. These were women dedicated to saving lives and souls.
Some were nurses in the hospital or in patients' homes. Some were missionaries. Many were both.
Methodist Hospital's first deaconesses lived in the three-story house at 20th and Harney that served as the hospital. As more deaconesses arrived and more patients were admitted, they moved to rented rooms several blocks away. Their pay was meager: room, board and perhaps $2 to $10 a month.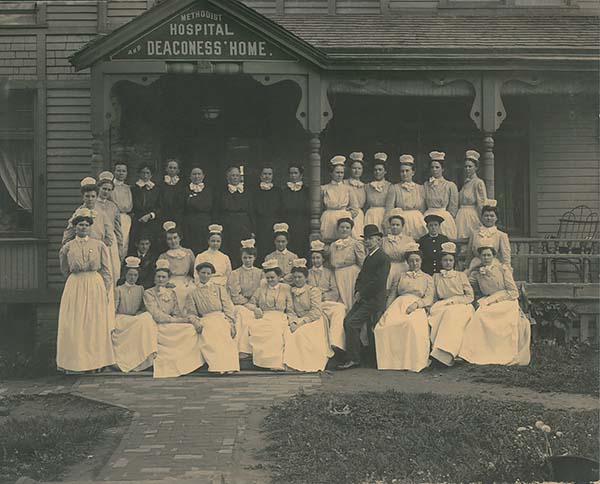 The deaconesses wore a simple black uniform with a long black cloak and black bonnet with white ties. By their dress they were recognized in all parts of the city, including the most unsavory neighborhoods, where their work frequently took them.
The Methodist Episcopal Church authorized the deaconess program in 1888: "The duties of the deaconesses are to minister to the poor, visit the sick, pray for the dying, care for the orphan, seek the wandering, comfort the sorrowing, save the sinning and relinquishing wholly other pursuits, devote themselves in a general way to such forms of Christian labor as may be suited to their abilities."
This excerpt from the deaconesses' annual report outlines the work performed at Methodist Hospital and the Omaha community in 1899:
Patients admitted: 832
Days occupied by pay patients: 7,415
Days occupied by free patients: 3,157
Medical patients: 108
Surgical patients: 350
Eye and ear patients: 374
Hours spent in nursing outside patients: 7,056
Calls made by visiting deaconesses: 1,164
Opportunities for prayer: 196
Opportunities for reading Bible: 183
Garments given away: 125
Baskets of food given away: 104
Learn more about the history of Nebraska Methodist College here.
Originally published as "Methodist Memories: The Deaconesses," a blog celebrating the 125th anniversary of Methodist Hospital and its School of Nursing, now Nebraska Methodist College.
Sources: "A Century of Medical Miracles: Nebraska Methodist Hospital (1891-1991)" ©1991 by Hollis J. Limprecht and Nebraska Methodist Health System; "The Deaconess Visitor," February 1900.