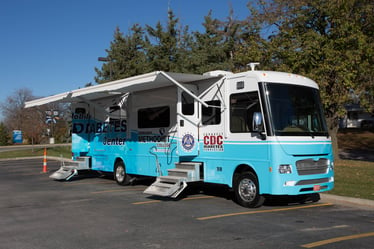 For decades, Nebraska Methodist College has provided education and screening services to Omaha and beyond via the Mobile Diabetes Center. Last Thursday, this facet of the community received new life.
In an official grand opening dedication, our college invited guests take a closer look at the brand new MDC, a vehicle that's been designed from the ground up with cutting-edge healthcare screening services in mind. It's a brand new start for a cornerstone of the Nebraska health market.
Front and Center
If you've lived in or around Omaha for any amount of time, no doubt you've seen the previous version around town. While that trailer certainly served its purpose and made a difference in the lives of so many people throughout our community, age had caught up to the original vehicle.
With our partners at the Cornbelt Diabetes Connection chapter of Cosmopolitan International, our team brainstormed the best path forward for the MDC. Initially, conversations revolved around remodeling the previous unit, but given both the years and the mileage, it was obvious that an entirely new Center was in order.
Foremost in our minds was size. As we continued to add features to the previous version of the MDC, it became more difficult to accommodate large amounts of guests at a single time. In addition to the Diabetes screenings and overall wellness check-ups that had been par for the course since the beginning, we've added:
Lead testing
Foot care
Flu vaccinations
Vision Checks
Blood Pressure
And that's just to name a few. What's more, we hope to continue adding services well into the future, which meant a much bigger vehicle was in order.
Dreams Come True
Well, thanks to Winnebago, that dream of a much larger, full-service mobile clinic is now a reality.
On Thursday, November 10, we were able to pull back the curtain on our vision. With a crowd of nearly 100 people gathered, the new MDC was shown publicly for the first time. Guests included faculty and staff of the college, representatives of the CDC, students, local media and more.
Following opening remarks by Dr. Dennis Joslin, President and CEO of Nebraska Methodist College, Terry Sanford, President of the Cornbelt Diabetes Connection, and Jerry Nelson, MDC coordinator and CDC Board person, a ribbon was unfurled and the ceremonial ribbon cutting could take place.
At that point, guests were invited to come aboard the new Center and see the amenities available inside. While the various screening systems had yet to be installed, guests learned where everything would be once the vehicle is officially launched, and I personally spoke about the different features and how they would allow our own students to make a difference in the community. Those features include a wheelchair lift gate, which will finally enable us to provide the same level of care to those who are unable to use the stairs to enter the mobile facility, and a cabin extension system that instantly increases the amount of available space once parked.
See You Around
The Mobile Diabetes Center has begun its journey with an inaugural rollout at UNO on Monday, November 14, World Diabetes Day. Students have expressed immense satisfaction with the new layout and what it means for their capabilities as healthcare providers.
What I'm most excited about, though, is what the future has in store. I can't wait to see our nursing students interacting with the community through the MDC, and if you ever see us around, please don't be shy about undergoing a health screening, getting a flu vaccination or just saying hello.
It's been an honor to bring the new and improved Mobile Diabetes Center to life. We hope to see you soon!