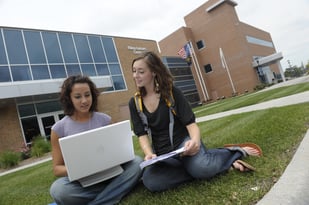 When you're ready to compare colleges, you'll need to spend some time and effort really getting a feel for your top choices. It's a big decision, so it makes sense to visit campuses, get to know college representatives and ask a LOT of questions. When you do the work of comparing and contrasting, you can better pick the school that's the best fit for you.
But what should you ask when you're choosing the place where you might spend the next FOUR YEARS of your life? The five questions below are a great starting point. Read through and then download our free campus visit worksheet to help organize your information as you tour your top-choice colleges.
1. Will the professors know my name?
Some students love the idea of a huge campus with dozens of buildings and big lecture halls. But others want something more personal. With lecture-style learning, it might be easier to sneak in a little late, but being just another face in the (big) sea of students ultimately means you'll probably get less out of the class.
At Nebraska Methodist College, smaller class sizes mean students can actually talk to and get to know their professors. That helps students better learn the curriculum, and it also teaches them valuable interpersonal skills. When you go into a health profession, you'll be building relationships with patients and working together with other professionals in team settings. Being able to tap into that sense of compassion and camaraderie from the very first day of your education makes for a great start to your career.
2. Is it easy for students to find jobs after graduation?
Dig deep to find out exactly how effective schools are at helping graduates find work. Each college should be able to provide you with a job placement rate based on major or program. High placement rates are something we pride ourselves on at NMC. Each program actually works with students to help prepare them for the job search process.
Just to give you an example, in 2013, the job placement rate for graduates of our Radiologic Technology program was 96%. This is thanks to our focus on making sure each student is ready to step into his or her chosen profession immediately. That leads to the next question.
3. How will you help me get ready for my career?
Your education should be a major launching pad for your career, so you'll want to be sure the college you choose will help you prepare for what's to come. A college should be able to talk about how and when they offer clinical experience and what they do in the classroom to get you ready for your first job.
We truly believe that you should be able to start your profession as soon as you get your degree or certificate. Hands-on instruction is critical to meeting that goal. For instance, if you choose to pursue your Bachelor of Science in Nursing, you'll actually start clinicals during the first year of the program. That means when you graduate, you'll already have 3.5 years of experience with patients, leaving you well-equipped to jump right into your first job.
4. What else will I pay for besides tuition?
While tuition is a good way to compare one college to another, make sure you understand what other costs might be involved, too. Will you pay additional fees each semester that aren't included in your tuition? What about housing and meal plans? Do you pay for activities when you attend or are they included in a lump-sum activity fee? Write down any possible expenses and fees so you can get a clearer idea of how much each college actually costs. You can take a look at Nebraska Methodist College's tuition and fees here.
5. How long will it take me to graduate?
This seems like a simple question, but it can actually be tricky to answer since it will be based on your personal situation. Maybe you'll be juggling a job and school or maybe you're just about to graduate from high school and want to start your career within two years. Whatever your situation or timeframe, the college you choose should be able to tailor your education to fit your needs. (For a closer look at some of the factors that play into how long you'll be in school, see our blog "How Long is Nursing School? 5 Surprising Factors.")
Still have questions? Schedule a campus visit and we'll be happy to help you decide if we're the right fit for you. And before visiting Nebraska Methodist College or any other institution, be sure to download our free campus visit worksheet to keep track of important questions and answers.