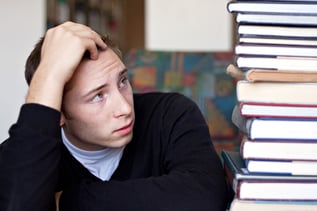 It's crazy to think about, but the new school year will be starting up in just a few weeks. If you're a soon-to-be high school junior, this is the time to relax, right? After all, you don't have to worry about college essays, campus visits, standardized tests, or any of that application stuff until well into your senior year.
WRONG! For the love of all that's holy in this world, do not drag your feet when it comes to starting the college search process. The truth is that there's plenty that high school juniors can do to prepare for college.
I've been there; I'll be a college freshman this fall, so I've come up with some tips that will set you up to select the college of your dreams. When all of your friends are scurrying around trying to finish their applications, you'll be lounging poolside, already set to get your degree on at the college you applied to months ago.
With that in mind, check out part 1 of our guide designed to help high school juniors take the college application process in stride:
Part 2 is live! Click here for eight more great college prep tips.
1. Always Carry A Pen
It seems silly, but trust me on this. You never know when you're going to need one and you don't want to be caught without one. When you're visiting colleges and getting information from teachers and counselors, typing on your phone doesn't scream "professional." This is a lowkey way to make yourself look reliable.
2. Find Your College Counselor
Your school has a counselor, and he or she is probably very lonely. They will help you with everything you'll need to know, but it's up to you to build a relationship with them.
Most counselors have probably talked to hundreds if not thousands of students, so you need to make yourself stick out. Give them a reason to think of you when some random opportunity pops up at a college you're interested in. It doesn't hurt to have someone looking out for you.
3. Use Your College Counselor
Don't just pop in once and call it quits. Ask your counselor plenty of questions so they can connect you to scholarship opportunities and refer your name to community leaders
4. Sleep
There comes a time in everyone's life when they relish the overworked, overactive teenager attitude, bragging about how they're accustomed to running on three or four hours of sleep. But here's what you need to learn: you can't let activities and academics control your life.
You need sleep. Get eight hours of it per night. If that's not possible, then take a nap! Taking care of yourself is one of the most important yet overlooked aspects of preparing for college.
5. Take Standardized Testing Seriously
Your NESA, ACT, and SAT scores can help your school look good, make your family proud, and get you into the college you want to attend. Don't play around with them just because they're not a grade. Standardized tests are serious business, so treat them like it. Colleges will judge your capabilities based on these scores. First impressions are truly critical.
6. Start Visiting Colleges
Check out as many colleges as possible. Every college puts its best foot forward online, but you have to feel the vibe on campus to be completely sure. (hint: NMC's Campus Visit Guide can help)
7. Don't Just Get Involved. Get Committed
Rather than join every club just so you can expand your resume, join one or two that you're actually interested in and can contribute to. Actually being committed to something that matters to you personally is far preferable to having your name on 20 rosters for clubs you don't really participate in.
8. Open a Bank Account
Your parents may have set some money aside, but every little bit counts, and you want to start thinking now about how to eliminate future loan debt. Limit fast food purchases and build interest in your savings instead.
9. Get a Job
Doing so demonstrates responsibility, teaches you how to work well with others and oh yeah, helps you save money to reduce your student loans.
About The Author:
Leona Dunn recently graduated from Omaha Burke and is a participant in Nebraska Methodist College's Upward Bound college preparation program. Named one of Nebraska's best student communicators by the University of Nebraska at Lincoln and the Omaha World Herald, Leona will be attending Tennessee State University in the fall.
Are you a high school junior looking to get a head start on the process? Then click the button to download NMC's College Selection Timeline.