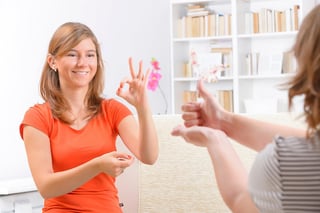 In a 2010 article in Nursing Standard entitled "Deaf Patient Showed Me Value of Two-Way Communication," a nursing student in Great Britain, Marie Anne Smith, described a meaningful, caring encounter with a patient with a hearing disability.
Although at first "I could only sign the letters of my name on my fingers," by the time of the patient's release, he was communicating his "thanks to me for always taking the time to find out what he needed and being a consistently friendly face." Smith concludes that "Communication does not always come easily but, as a nurse, facilitating communication is my responsibility."
With that in mind, this is an excellent time to look at one of the more exciting programs being offered at NMC: the sign language minor option.
It's All About Improving Care
"Communication is one of the number one priorities in nursing," said Sarah, a student at Nebraska Methodist College. "Without great communication, not only will your relationship with your patient suffer, but also the treatment."
It's clear that knowing sign language will equip healthcare professionals, including nurses, with an important skill that will not only distinguish them from their peers but provide a superior level of care for hearing-impaired patients.
Students who are enrolled in the sign language minor at Nebraska Methodist College will extend their signing skills as well as learn the richness of the language and knowledge of Deaf culture.
American Sign Language is not universal, nor is it a gesture-based non-verbal system or a simplified version of the English language. These are common misconceptions.
Copious amounts of linguistic research prove that ASL embodies all the elements of a true language, including syntax, semantics and grammar rules. Deaf culture is abundant with literature, heritage and customs which are increasingly researched and studied.
Complying With The ADA
Communication is more important than many people probably realize. Included in the education at NMC is advice about navigating ADA compliance rules.
When a nurse, for example, is mistaken as a certified interpreter, legal liabilities can occur. An article published by the NIH recently reported:
"In Abernathy v. Valley Medical Center, the hearing impaired patient, who suffered from severe abdominal pain, was unable to receive appropriate emergency care at the defendant hospital because of inadequate accommodations in the form of written notes and a nurse who knew 'some' sign language. The court concluded that the claim fell well within the legal standards governing the obligations of hospitals; because medical injury was alleged, the case might have as plausibly been brought as a negligence case." (Institute of Medicine [U.S.] Committee on Disability in America, 2007, "An Overview of the ADA" section)
Sarah had an eloquent way of explaining this idea in greater detail.
"Lack of communication in healthcare can lead to health issues going untreated or mistreated," said Sarah. "I was conducting research for an essay and found an example where a doctor had written a note to a Deaf patient saying 'You may need surgery.' The patient read it as 'You need surgery in May.'
"This example shows the importance of having a qualified interpreter and not just relying on writing notes back and forth… I never really thought about how big of a difference a few extra sentences can make."
Communication Across The Nation
The National Association of the Deaf Position Statement on Health Care Access for Deaf Patients stated that healthcare has a history of being routinely inaccessible to the Deaf population due to lack of communication.
That type of treatment doesn't sit well with us. Nebraska Methodist College teaches the meaning of care, and how we care is through communication. Communication is the key element to any successful relationship, and there is no relationship as pivotal to life as healthcare provider to patient.
One need only talk with professional nurses who have developed bilingual skills to learn that such skills augment caring and respect in interactions with patients.
Sarah is a prime example of how a person who is passionate about helping people can make a big difference by taking on another language:
"I do get a lot of strange looks when people say, 'Why ASL? Why don't you go do Spanish?' My answer to them is that Spanish individuals deserve someone to be able to communicate with them in the healthcare setting and so do Deaf and Hard-of-Hearing individuals.
"Imagine going to the doctor and not even being able to tell them you are in pain. When we have someone come in and they are in pain, we ask them many questions. When a deaf individual comes in and you are unable to ask all of these questions, it can lead to more testing and lab work than needed and increase the time until you are able to diagnose and treat the patient."
We take patient communication seriously, and that's why we encourage our students to look into the Sign Language minor. To learn more about this important part of education at NMC, contact an Admissions representative today.