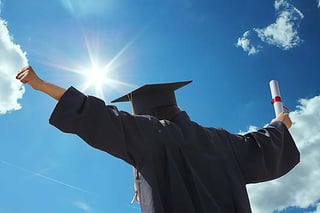 There are several Occupational Therapy Majors to choose from once you've made up your mind that you want to become an Occupational Therapist. That best on the list includes Exercise Science, Psychology, Health Sciences, Speech Pathology and a choose your own adventure scenario.
We've explored each of these occupational therapy major tracks below.

1. Exercise Science
One of the best majors for occupational therapy is exercise science. Perhaps the top major that we see students coming in with is Exercise Science.
This makes a lot of sense when you think about it. Exercise Science majors have to take many classes that lead directly into Occupational Therapy. Kinesiology and biomechanics are standard at many institutions, providing the student with impeccable knowledge of movement, something that will come in handy when working with clients as an OT.
The earlier that a student can start to really think about the science that goes into the actions we take for granted on a regular basis, the better. It will cause you to look at the world with a whole new understanding. You'll even become attentive to your own subconscious movement, learning ways to fine-tune your body in a way that's good for your health.
These skills are immeasurable to the Occupational Therapy world, and Exercise Science is a major that will help students to perfect them.
2. Psychology
It's important for OT students to never lose sight of the human aspect of their job. That's precisely why psychology is another valuable major for prospective OTs.
As an Occupational Therapist, you'll regularly work with people from all walks of life. These people will have different backgrounds and beliefs, and it's up to you to provide the optimum level of care every single time.
You have to remember that the persons you work with could be facing the most challenging situation they've ever dealt with in their entire lives. Psychology will teach you early on how to approach persons on a level they appreciate, to draw out information from them and, more importantly, to make sure that the education you provide hits home in a way that they'll easily comprehend. Not all techniques will work for all people, but psychology will teach you how to distinguish between scenarios and relate to an individual on a fundamental level.
Never forget that you are entering the lives and homes of people who trust you to care for them. That's a big responsibility and one that psychology can prepare you for.
3. Health Sciences
Let's say you are interested in healthcare but don't yet want to pick a specialty. Or you're entering college but aren't yet 100% confident that OT is your ultimate destination.
That's where a Health Studies or Health Sciences major will really come in handy. This type of degree is a fantastic fit for so many people precisely because it allows you to keep your options open.
Allied health is a wide-ranging industry and it becomes more so every single year. When you actually take a step back to figure out what you want to do within it, it's a daunting task. Health majors give you the opportunity to get shared common courses out of the way in your undergraduate studies. Then, in your sophomore, junior, senior years or even after graduation, you can figure out where you want to specialize.
If OT is just one possibility of many that you're thinking of but you're not ready to commit completely nor drop it forever, give Health Sciences or Health Studies a shot.
4. Speech Pathology
Although actually becoming a speech pathologist will typically require a Master's degree in order to practice, the undergraduate major provides a great introduction to the skills necessary for Occupational Therapy.
Persons with a background in speech pathology are able to work with those who are unable to get their own ideas across or interpret what others are attempting to convey. In fact, Speech Language Pathologists often work together with OTs on treatment teams, so it helps to have a good understanding of each discipline's role, especially since so many things fall into the scope of practice of each.
The ability to communicate across speech disorders and, even more importantly, to help a client move past those disorders in their lives, is one that is cherished among OT professionals. A speech pathology interest early on can really help a person become a fantastic Occupational Therapist later.
5. Potpourri
The last one is a Choose Your Own Adventure scenario.
We said it at the top and it bears repeating: as long as you have the prerequisites out of the way, you could gain entry to NMC's Occupational Therapy program and potentially others throughout the nation.
Yes, the degrees we've mentioned do a pretty good job of generating the necessary prereqs that a lot of OT programs will be looking at, but that doesn't necessarily mean these are your only options. You can always take a course later at some other institution if necessary.
Biology, Mathematics, Social Sciences: all have some relation to the field, and all are valid majors for someone who will pursue a career in OT.
Don't think that because you don't have a specific Bachelor's degree that you won't qualify. What we and other institutions look for in the interview process is someone who is dedicated to helping others. Anyone who can speak honestly and passionately about why they decided to alter their educational path to make a difference may very well find their place in an OT program.
While these bachelor's options are wonderful choices, always remember that they're not the only choices. You get to choose your path, and as long as caring and authenticity are at the center of your pursuits, you will no doubt find an OT program that fits like a glove.