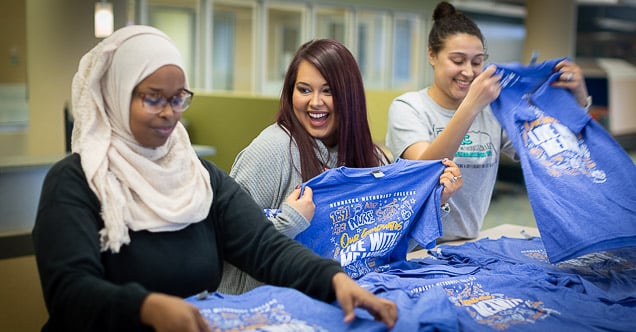 Jenny Christian joined Nebraska Methodist College (NMC) in 2017 as the Administrative Assistant for the Office of Student Engagement (OSE) and was recently promoted to the Student Events and Engagement Coordinator. I asked Jenny to share more about her new role and her vision for OSE at the college.
When did you join NMC?
I started at NMC on Valentine's day of 2017 as an Administrative Assistant for OSE. I just jumped right in that day and helped with an event. On Valentine's Day, we have heart-shaped sugar cookies that the students can decorate.
What's your new role? What job responsibilities do you have in this new role?
My new role is as the Student Events and Engagement Coordinator. I have full reign of all the events I used to assist with [as Administrative Assistant] - graduation, orientation, CARE Days, study weeks, welcome weeks, homecoming and anything in between that comes up.
I also advise the Student Ambassador team and help with the student aspect of social media as well.
What is your relationship with NMC's Student Ambassadors?
Editor's Note: Student Ambassadors are responsible for helping incoming students acclimate to campus life. These NMC leaders are dedicated to representing the college and assisting with orientation and other campus events.
They are a phenomenal group of students, and I get to meet with them regularly in preparation for orientation. That's the main aspect of their role. And my relationship with them is very important to me because they are the faces of the school.
Even though they are students themselves, it's so rewarding to help them grow as leaders in a professional way. They go outside of what's required for them. I am always so proud of them. I don't know how they do it. I coach them to grow their leadership skills and prepare them for the jobs they will get when they finish their degrees.
How does it feel to be the new Student Events and Engagement Coordinator?
I love it. Getting to know the students and having them be comfortable seeking me out is the best part. It gets my face in front of theirs. It's a face they see from the beginning to the end - at orientation and also when they cross the stage at graduation.
What is your vision for the Office of Student Engagement at NMC?
In OSE, we share the one goal of making the students our priority. We love the administration's open door policy - that trickles down to us. The only time you'll see our doors closed is when we're with a student or on a private phone call. During those busy times for all of us, the student and their needs are always the number one priority.
What is something students, faculty and staff may not know about the Office of Student Engagement but really should?
Students don't always know what OSE stands for when we refer to it as that [acronym]. They also may not know about the food pantry that we help facilitate. We want students to know we're here for them for that, and it's offered to all of them.
What is the importance of OSE?
You've got the faculty who teach students how to be a healthcare provider. They're doing the teaching, evaluating and grading. On the flip side, we help them with academic coaching and support services. We're trying to help them with the rigors of life outside of the classroom.
What is your favorite part of your job?
The student contact, the stories and being able to help them grow as professionals. I love working with the ambassadors and students I can see regularly. I love when I can be a listening ear for them.
What is your favorite tradition at NMC, and why?
Graduation will always be my favorite. Orientation and CARE Days are the excitement of the beginning of their journey. But with graduation, I see the emotion and the realization that they achieved this huge goal that some of them have dreamed of their whole life. Watching them cross the stage is the best experience ever.
What can students look forward to coming up?
Now that I have over 6 months of this new role under my belt, I really want to start looking at the things we always do. I want to see how we can change them, promote them better and make them bigger.