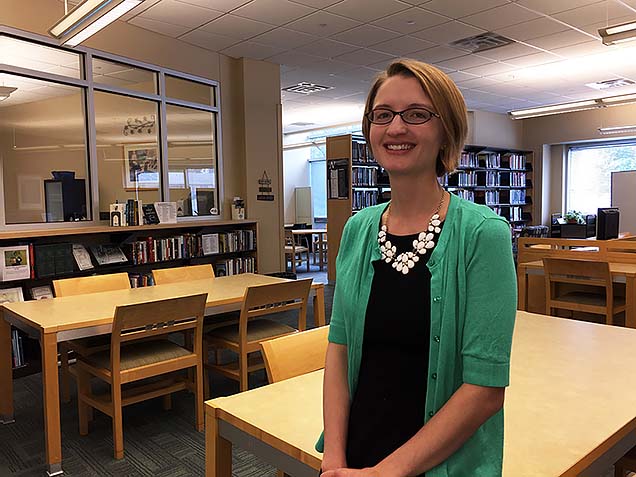 Emily McIllece joined NMC in 2014 as the Reference and Instruction Librarian and was recently promoted to the Director of the John Mortiz Library. I asked Emily to share her career journey and her vision for the library at NMC.
What made you want to become a librarian?
Well, it wasn't to read books! I've read less and less since becoming a librarian. Sad misconception. I've always enjoyed working in libraries as a student, and I enjoy the variety of projects and people involved. It's a profession that marries process and creativity to solve problems, though I suppose that could be said about many professions. Simple answer: I get paid to learn stuff, and I like learning, so it's a win-win.
Tell us about your path to becoming a librarian.
The library has always been there from the beginning. I was a bookworm camped out in the library after school, every summer and, eventually, as a summer job. But I never thought of it as a job. Originally, the big plan was to be a writer and maybe have a publishing "day job." Very practical. I got my Bachelor of Arts in Writing at Morningside College and worked in the library there.
Then I graduated with writer's block and was hired at The Daily Nonpareil as a reporter and later paginator/editor. I wasn't happy there, so looked into professional library positions and discovered I needed to get my master's degree. I went out a limb for part-time positions to get my foot in the door while going to graduate school at the University of Missouri-Colombia. That was nerve-wracking but worth it! To supplement income, I also wrote copy for Hayneedle, a job that involved writing 12 different unique product descriptions for diaper bags and tool boxes.
After a year as a clerk at the Omaha Public Library, I was hired full-time at the University of Nebraska at Omaha and finished graduate school. I was at UNO for three years before coming to NMC.
How does it feel to be the new library director?
Exciting and stressful! Sonja, our Electronic Resources Librarian, and I are taking a hard look at our processes and resources. We just hired a third librarian, and it feels really good to be able to shape a new team. It just got real!
What is your vision for the library at NMC?
Dangerous question! Joking aside, I want to see stronger integration with the curriculum so we can scaffold information literacy throughout the programs. A first-year student has different information needs than a third-year or graduate student. Maybe we incorporate library labs tied to specific courses and projects, so instructors are not torn between sacrificing class time and skill building. The lab could be mostly online but include face-to-face components, if appropriate to the course.
Are there any big library projects in the works in the near future?
We are looking at switching our integrated library service platform, which includes the catalog and circulation modules. LibWizard is an interactive tutorial platform that we've piloted in a couple of classes, but plan to roll out a menu of ready-made options to faculty this year. Then the templates can be easily customized for particular courses.
What is something students, faculty and staff may not know about the library but really should?
If you can't find a book or article in our library – JUST ASK! If you find one through (gasp) Google, don't pay for it, just ask us! If we can't find the item in our collection, we use an interlibrary loan service and usually can get you the item for FREE. Articles are emailed within a day or two, but books will take longer, depending on their origin. Sometimes we might even just buy the book for you – but you DO need to bring it back!
Technology really seems to be changing the way that libraries function and services they offer. How do you see NMC adjusting to that trend?
Honestly, we rarely see students using Kindles, and often they ask for print copies of their e-textbooks or the e-books we do offer. Public libraries were at the forefront of e-books hitting the market (and, I would argue, greatly helped them become a trend). Most of our collection comprises of journals in online databases. The big trends in academic and public libraries are maker spaces, 3D printing and digital repositories. Even some hospitals have maker spaces for nursing units, so I could see NMC moving in that direction, especially with the Occupational Therapy and Physical Therapist Assistant programs.
What is your all-time favorite book and why? Any book recommendations for our blog readers?
My reading has plummeted ever since I became a librarian and then later a mom. I pick up a book at bedtime and I barely get through five swipes or pages before my eyes shut. But the book I've reread the most, aside from the "Harry Potter" series, would be "Good Omens" by Terry Pratchett and Neil Gaiman. It's a satirical take on the Book of Revelations, never stops being funny and never gets old. My husband and I met online and it was all due to this being listed on my profile – it's also one of his favorite books. We have three copies in the house in various stages of wear.
What do you like to do in your free time?
SLEEP! Okay, that's a wish. I'm finally getting back into writing. I'm currently trying to finish a long piece of fan fiction I stopped writing shortly after graduating college. It's been nearly a decade. So, I'm trying to finish it and hope it gets the cobwebs cleared out for something original. Someday I'd also like to get back to sailing our little boat on the lakes, but we need someone to watch our toddler. She's really cute and fun, so if you're bored on a sunny, breezy Saturday …