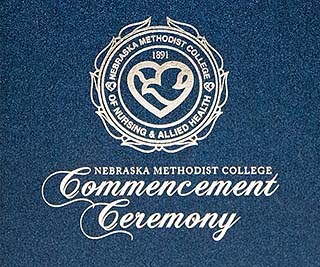 Nebraska Methodist College will honor 179 graduates at this year's spring commencement.
The celebrations began Thursday with the Graduate's Reception at the Methodist Corporate Ballroom, hosted by the NMC Alumni Association. Graduates, guests and the entire NMC community gathered to congratulate the newest NMC alumni and recognize outstanding students.
Today, two commencement ceremonies will be held at St. Andrew's United Methodist Church: one to recognize our nursing graduates and another to honor our allied health graduates.
This commencement will be the last for outgoing President and CEO Dr. Dennis Joslin., who is retiring after 15 years at the helm and 41 total years at the college.
"These graduates represent the values and traditions that we hold dear at our institution," Dr. Joslin said. "We can't wait to see what incredible things these caring and compassionate men and women will accomplish in their healthcare careers."
The list of graduates, along with their degrees, is as follows:
MASTER OF SCIENCE, HEALTHCARE OPERATIONS MANAGEMENT
Iowa
Teresa Butler, Onawa
Jamie Rae Jennings, Sidney
Amanda M. Roberts, Treynor
Nebraska
Beth L. Edwards, Omaha
Stacy Elizabeth Hug, LaVista
New York
Thara F. Lerner, Clifton Park
South Carolina
Billie A. Thompson, Columbia
MASTER OF SCIENCE, HEALTH PROMOTION MANAGEMENT
California
Elizabeth Amstutz, Redding
Iowa
Nicole Renee Rengstorf, Red Oak
Nebraska
Melissa Cronstrom, Omaha
Vermont
Jonathan Billings, St. Albans
MASTER OF SCIENCE IN NURSING
Iowa
Kyle J. Kreger, Council Bluffs
Janel Rebecca Myers, Underwood
Mississippi
Amber Lynn Shaw, Steens
Nebraska
Lisa LeeAnn Cantrell, St. Paul
Sara L. Chitwood, Gering
Megan Ridge Kucera, Omaha
Sarah Frances Luebe, Pierce
Sheila Ruth O'Brien, Tilden
Kelli Rhoades, Omaha
Christine Louise Walton, Omaha
Marilyn Joan Voss, Arlington
Texas
Angela Nicole Smith, Killeen
BACHELOR OF SCIENCE, HEALTHCARE ADMINISTRATION
Iowa
Sandy Jean Belt, Council Bluffs
Nebraska
Alexander T. Belsky, Omaha
Benjamin J. Chrystak, Omaha
Morgen A. Legenza, Omaha
Tabatha Mogensen, Bellevue
BACHELOR OF SCIENCE, RESPIRATORY CARE
Nebraska
Kendle Ann Burow, Beatrice
Lynette W. Nikiema, Omaha
BACHELOR OF SCIENCE IN NURSING
Arizona
Stephanie R. Bergstrom, Peoria
California
Minne Ngugi, Pleasanton
Colorado
Chantel Johnette Huff, Golden
Anthony Mark Ridder, Loveland
Iowa
LeAndrea Bowman, Missouri Valley
Bridget Breann-Mahoney Conrad, Woodbine
Abigail Kaye Ervin (Fuchs), Panama
Darri Ann R. Maline, Council Bluffs
Brandy Rae McCauley, Sereant Bluff
Shannon O'Donnell, Sioux City
Tamra Elizabeth Schaecher, Crescent
Melissa Sutton, Council Bluffs
Brittany Mae Vondrak, Hinton
Nebraska
Myca Lynn Aakre, Omaha
Leah Alyse Anania, Omaha
Kimberly A. Barg, Wood River
Sarah Jo Barker, Omaha
Sarah Joy Bechtold, Omaha
Courtney C. Bednarczyk, Omaha
Lindsey Borsh, Omaha
Bailey J. Burkett, Blair
Abigail Yoshadria Cervantes, Omaha
Britney R. Cope, Omaha
Cathryn Jeanette Cushing, Omaha
Kelly Jean Devlin, Omaha
Haley Duncan, Shelby
Shannon Kathleen Dunning, Omaha
Timothy Paul Fitting, Omaha
Callie J. Fuhs, Omaha
Michael Garvey, Omaha
Adam Ryan Gentry, Omaha
Maurice Gregory III, Omaha
Elaine Gross, Omaha
Patricia Guenther, Waverly
Jennifer Lynn Guthrie, Omaha
Victoria Beth Haecke, Omaha
Reed Michael Hanke, Scribner
Staci Lynn Hayworth, Omaha
Rachel Ann Hilt, La Vista
Claire Rae Hickey, Elmwood
Tessa Margaret Hlavaty, Plattsmouth
Sydney Nicole Hogan, Gretna
Christopher T. Holman, Papillion
Steven J. Hopkinson, Omaha
Gretchen Lynne Hupp, Stanton
Heather Lynn Iverson, La Vista
Rhonda Jane Ketteler, Atkinson
Ashley Nicole Kloewer, Omaha
Taylor Marie Kolvek, Omaha
Kaitlyn Kay Kracl, Omaha
Kenna Lea Landolt, Omaha
Sally Ann Larsen, Omaha
Anna Leach, Elkhorn
Gabrielle Christina-Marie Ligotke, Blair
Samantha Jo Lozos, Columbus
Andrew Joseph Martin, Omaha
Andrew George Mathews, Bellevue
Molly Kathryn McCarthy, Bellevue
Alexa L. Mendoza, Omaha
Savannah M Michalski, Lincoln
Kathryn Ann Miller, Omaha
Jordan Mollner, Omaha
Holly Rena Morales, Lincoln
Abby Elizabeth Morong, Omaha
Bailey Frances Myer, Omaha
Christina Marie Nuernberger, Omaha
Jennifer Lynn Odom, Omaha
Cari Ott, Omaha
Miranda C. Paulson, Wahoo
Andrea Michelle Perry, Lincoln
Katlyn Pfeiffer, Bellevue
Alexandria Pruitt, Omaha
Benn Jeffrey Rayment, Elkhorn
Alexandra Cristen Reed, Omaha
Natalie Lyn Robart, Omaha
Emily Ronspies, Plattsmouth
Brianne Michelle Ross, Omaha
Maria Beth Schmidt, Omaha
Kasey Kay Shriver, Omaha
Holly Kristine Singh, Omaha
Katie Elizabeth Smith, Omaha
Pauline Marie Snell, Omaha
Danielle Jaquelyn Stappert, Omaha
Branigan Marie Stonacek, Omaha
Haley Lynn Stonebraker, Omaha
Memory TeriLee Stopak, Omaha
Kayla Marie Suiter, Omaha
Allison Marie Cecilia Sundeen, LaVista
Shannon N. Surber, West Point
Shelby Nicole Tewes, Kearney
Shelby Marie Todd, Omaha
Jeanette Ulmer, Omaha
Holland Venema, Omaha
Jennifer Lynn Walters, Nebraska City
Carly Jean Wilson, Omaha
McKenzie Wrich, Omaha
ASSOCIATE OF SCIENCE, DIAGNOSTIC MEDICAL SONOGRAPHY, CARDIOVASCULAR
Iowa
Amber Huttmann, Council Bluffs
Nebraska
Allethea Z. Allee-Lentz, Omaha
Hannah Christian Carpenter, Omaha
Kaelen L. Havel, Omaha
Brittni Nickol Howard, Bellevue
Amanda S. Muffoletto, Bellevue
Heather Linn Poskochil, Omaha
Jenna M. Zenchuk, Omaha
ASSOCIATE OF SCIENCE, DIAGNOSTIC MEDICAL SONOGRAPHY, MULTISPECIALTY
Nebraska
Brittany Allgire, Papillion
Brittan Rae Braunsroth, Elkhorn
Ishah Dominguez, Bennington
Kimberly Ann Halligan, Ralston
Rano Ibragimova, Omaha
Brittney Marie McDonald, Omaha
Dawn M. Pecor, Bennginton
Chelsey Marie Petersen, Herman
Taylor C. Peterson, Omaha
Leslie Justine Wehrli-McFarlin, Omaha
ASSOCIATE OF SCIENCE, PHYSICAL THERAPY ASSISTANT
Iowa
Brady C. Collison, Carter Lake
Nebraska
Brea Bowman, Lincoln
Michael Patrick Carraher, Lincoln
Brandon Cruz, Omaha
Karen Ann Gammel, Bennington
Tevin O. Griffin, Omaha
Julia Anne Hauser, Omaha
Kelly Marie Hecht, Omaha
Kale Hintz, Hebron
Nicole Holtam, Elkhorn
Chase Cameron Koehler, Harvard
Courtney Marie McCauley, Lincoln
Tyler Joseph Milz, Papillion
Kelly Poland, Omaha
Jonathan Ringblom, Omaha
April Elizabeth Thompson, Omaha
Erynn Westfall, Bennington
ASSOCIATE OF SCIENCE, RESPIRATORY CARE
Iowa
Sandra Jean Larsen, Honey Creek
Nebraska
Jennifer Marie Branigan, Omaha
Jordan Corder, Kearney
Jennifer Howard, Fremont
Bridget Adele Huddleston, Kearney
Mariami Kapanadze, Kearney
Beth Ann Mass, Omaha
Taylor Ann McDuffee, Columbus
Kendra Lora Thornburg, Gretna
Kara Jean Weier, Omaha
ASSOCIATE OF SCIENCE, SURGICAL TECHNOLOGY
Nebraska
Chelsea La' Brea Clark, Omaha
DeLisha Irene LaKquise Coleman, Omaha
Stephanie C. Kimsey, Blair
Haley Clyette Kuecker, Valley
Samantha Joe Lang, Omaha
Layne Brooke Oberembt, Bennington
Kelsi Rae Pane, Omaha
Connor J. Thomsen, Papillion