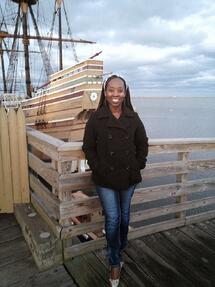 In my previous life as a maternal and child health public health profession, I met a nursing professor, Ms. Kimberly Hall, who nurtured my long standing desire to be a nurse. Initially, I did not believe I had what it takes to be a part of such an honorable career, but all that changed when my dear father was diagnosed with aggressive, stage IV gastric cancer in January of 2013. I did not have any medical training, but I knew that the prognosis was dismal, and the oncologist confirmed my fears within two weeks of the diagnosis. I had to juggle the responsibility of being my father's primary caregiver, my work and my family responsibilities as well as cope with the anticipatory grief of dad's imminent passing. It was the most difficult time of my life as I waded through a maze of medical, ethical and cultural dilemmas during the remaining six months that my father was alive. I believe I provided him with the best care a daughter can to her father in his final months, and that was the defining moment that I had what it takes. I wanted to care for other patients as I had for my father, and as the wonderful health care team, especially the nurses, had cared for him and for us as a family. My dad's terminal illness, the nurses who provided most of his care, and Ms. Hall have been the most significant inspirations in my desire to be a nurse.
I have been in the
accelerated BSN program
at Nebraska Methodist College for the last nine months, and every day, I feel more and more prepared to be nurse and a nurse leader. The most significant lesson I have learned so far is the importance of the philosophical and theoretical frameworks of caring, elaborated by Jean Watson, as the guiding principles in the profession and the vocation that is nursing. I remain passionate about women's and children's health, and I hope to obtain a
DNP
in women's health in the next few years.
I will be forever grateful for
The Robert Wood Johnson Foundation New Careers in Nursing Scholarship
, without which this journey would not have been possible for me. The rigor of an accelerated BSN program necessitates that I give it my undivided attention, and any substantial employment is impossible. I am also limited in borrowing federal education funds as a second Bachelor's degree seeker. I am grateful that there is the opportunity to continue into advanced nursing degrees with support from the Foundation. I am also incredibly grateful to my mentor Ms. Hall, my academic advisor Dr. Ward, my supportive family, and most of all, my late father, whose sacrifice made this journey possible.