This article was published by Leeanna Ellis at the Washington County Pilot-Tribune & Enterprise on 5/12/2017.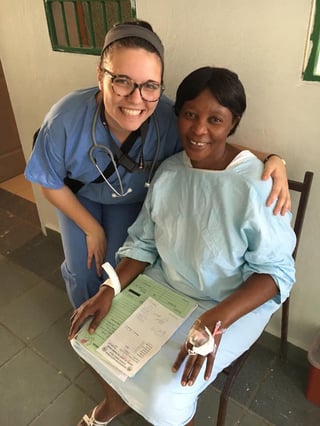 It was Alex Boulton's first day volunteering at a hospital in Pierre Payen, Haiti, when the head nurse asked her if she could place an IV in a patient's hand.
"I was a little nervous," Boulton said. "I had never done it so I was going to give it a try."
Boulton, a nursing student at Nebraska Methodist College, explained to the woman through a translator what she was going to do. Because the woman had dark-colored skin, Boulton said she had to place the IV on feel alone because the veins were not visible.
"I got it on the first try," Boulton said. "That was really exciting."
That gave Boulton a boost of confidence and she shared her excitement with the woman.
"She was just kind of laughing along with me because she didn't know why this American lady was laughing that she just put this IV in," Boulton said. "She probably thought I was crazy."
Boulton, a 2013 Arlington High School graduate, traveled to Haiti as part of the Grace4Haiti Medical Mission team. She returned April 16.
During the trip, Boulton served with surgical units in both pre-op and post-op at the hospital. She was allowed to give medicine, injections and observe surgical procedures, including a cesarean section performed by a Haitian doctor.
"They were really great about if you wanted to go in and watch, you could," she said.
Many of the patients Boulton saw had similar ailments to those that patients suffer from in the U.S.
"But why it's so much worse down there is that they don't have the facilities and the doctors and the health care readily available," she said.
On the third day of her trip, Boulton and other volunteers with Grace4Haiti visited an orphanage near the hospital. The group brought extra clothes, shoes, candies and other items for the orphans.
"These kids run up to you and they're hugging you and grabbing you by the legs," Boulton said. "You're standing in this pool of children so happy to see you."
One little boy came to Boulton and put his hands in the air, signaling that he wanted to be picked up.
"I picked him up and held him," Boulton said. "He wouldn't let me put him down."
The children sang for the group of nurses and doctors.
"I just remember tears rolling down my eyes and thinking, 'This is what I was supposed to be doing.' These children are so full of love and happiness with so little."
The experience was eye-opening and "humbling" for Boulton.
"These children don't have families and they don't have homes. They live in this orphanage," she said. "Some of them maybe do have parents somewhere, but lost them during the earthquake and can't find them. These are real problems.
"I come home to the United States, live in my air-conditioned apartment, drive my 2015 Ford car and I'm worried about silly stuff, like I got a B on a test," Boulton said. "These people are worried about being able to eat the next day."
As she sat in the orphanage holding the little boy, Boulton realized she was meant to be there to bring joy to those children, even if it was only for an hour.
"I just knew that that was where I was supposed to be," she said. "God led me to that point in my life right there in that moment. I was just so grateful and so thankful for the opportunity."
Boulton plans to volunteer again with Grace4Haiti and possibly go elsewhere on medical missions after she graduates.
"I want to go back," she said. "I think this is my calling. I know that's what I'm supposed to do."
Authored by Leeanna Ellis at the Washington County Pilot-Tribune & Enterprise on 5/12/2017.