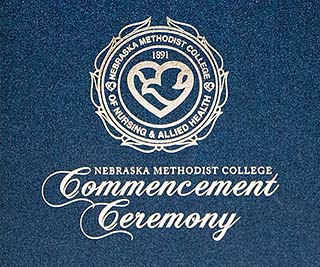 It's hard to believe, but the summer session has already come to an end and, for our most recent class of college graduates, so have their degree paths!
This afternoon, Nebraska Methodist College honored its graduates with a Commencement ceremony at St. Andrew's Methodist Church. Grads from a variety of disciplines, degrees and certificate levels gathered to take part in a tradition whose roots date back nearly 125 years.
The Commencement ceremony was the capper to a day filled with events geared toward NMC's exceptional graduates. A brunch was held earlier in the day to give students one last chance to mingle as a group with their peers, professors and anyone who made a difference in their lives during their time at NMC.
From there, students and their families shifted gears to the Commencement itself. A joint ceremony for nursing and allied health students began with a processional and a welcome from Dr. Dennis Joslin, president and CEO of NMC. Grad Kathleen Franco addressed those gathered at the event, and Angela Heesacker-Smith, Director of Alumni Engagement, used a speech and video as an opportunity to showcase what it means for grads to honor the meaning of care throughout their future careers.
Graduates then lined up to receive their diplomas along with all attendant honors they earned due to their hard work at the college.
We want to extend one last heartfelt congratulations to everyone who studied hard and walked away with a brighter future as a result of their efforts. If you know any of the following people, be sure to congratulate them on everything they've accomplished both in their own education and in their efforts to help others, which is what their accolades truly signify.
Well done, graduates!
---
The list of graduating students, along with their degrees and any special honors acquired, is as follows:
Master of Science in Nursing
Annie Bowman, Gretna, NE
Tammy Brockmoller, North Platte, NE
Chad Colburn, Omaha, NE
Krystina Nicole Eymann, Omaha, NE
Susan B. Farley, El Cajon, CA
Joey Winn Fichtl, Omaha, NE
Brittney A. Fritzinger, Wahoo, NE
Rhonda Lu Garretson, Council Bluffs, IA
Roxanne Susan Gould, Elkhorn, NE
Samantha Jo Heilig, Omaha, NE
Jaclyn A. Hoyt, Red Oak, IA
Jennifer Nicole Landeros, Emporia, KS
Danielle E. Michels, Underwood, IA
Julia M. Morganflash, Blue Hill, NE
Jessica Marie Pauley, Avoca, IA
Nicole Marie Rauth, Council Bluffs, IA
Heather Rolling, Merrill, IA
Ronald Dean Salsbury, Underwood, IA
Jerrica Lee Schmitt, Council Bluffs, IA
Carey Lynn Sliva, Gretna, NE
Post-Master's Certificate, Healthcare Operations Management
Lily Ann Haken, Spokane Valley, WA
Post-Master's Certificate, Nurse Educator
Alicia Lynn Cronin, Omaha, NE
Bachelor of Science, Imaging Sciences
Megan McKelvey,*** Elkhorn, NE
Bachelor of Science in Nursing
Lora Catherine Burki,* Papillion, NE
Brittany Diane Carnahan,* Omaha, NE
Ashley N Carter, Papillion, NE
Mandy Bea Dinsmore,** Omaha, NE
Courtney Elizabeth Dvorak, Omaha, NE
Megan Louise Elliott,*** Omaha, NE
Jessica Feller, Council Bluffs, IA
Carrie Ann Felton, Bellevue, NE
Kristina Marie Gentleman, Omaha, NE
Lacey Hulstein,*** La Vista, NE
Marcy Dee Jacobsen,** Omaha, NE
Dawn Marie Joynt,E Papillion, NE
Angela J. Knigge,** Fremont, NE
Holly Lynn Kramer, Omaha, NE
Paige Longwell, Omaha, NE
Ryan Patrick Mahoney, Ralston, NE
Sarah Marang,** Omaha, NE
Brandi May Mercer, Omaha, NE
Drew Nels Paulsen, Cozad, NE
Amanda Rutter,*** Osceola, NE
Mindy Dawn Seiler,*** Omaha, NE
Susanne I. Simms,* Omaha, Ne
Tina S. Twymon, Omaha, NE
Bachelor of Science, Healthcare Administration
Miranda Danielle Leaman, Omaha, NE
Sabrina Kaye Stamps,*** Ashland, NE
Bachelor of Science, Women's Medical Imaging
Rachel Ann Labedz,*** Omaha, NE
Danielle Marie Morrow,* Waterloo, NE
Whitney Lynne Wilson,*** Avoca, NE
Associate of Science, Radiologic Technology
Savannah Yvonne Harley Brown, Omaha, NE
Ashley Rose Burbridge,♦♦♦ Council Bluffs, IA
Daniel Patrick Carr, Bellevue, NE
Morganne Rose Cernik,♦♦♦ Bellevue, NE
Abby Core,♦♦ Guthrie Center, IA
Kelsey F. Detweiler,♦ Omaha, NE
Kathleen Marie Franco,♦♦♦ Omaha, NE
Samantha J. Gohr,♦♦♦ Louisville, NE
Samantha J. Jones,♦♦ Omaha, NE
Elise Kathleen Lane,♦ Omaha, NE
Michaela Marie Meyer,♦♦ E Manning, IA
Annie Marie Niewohner,♦♦♦ E Omaha, NE
Patrick O'Donnell,♦♦ Omaha, NE
Megan Marie O'Hearn,♦♦ Omaha, NE
Denise Marie Plagmann,♦♦ Omaha, NE
Karen Shope,♦♦♦ Omaha, NE
Amanda Mickenzie Skeen,♦♦♦ Omaha, NE
Ashley Rae Snitily,♦♦ Abie, NE
Drew David Swenson, Bath, SD
Certificate, Medical Assistant
Amanda Barrera,♦♦ Bennington, NE
Mary C Black,♦♦ Bellevue, NE
Casandra Nicoleta Carlsen, Omaha, NE
Sarah Irene Doolan,♦♦♦ Bellevue, NE
Stevie Duffield, Omaha, NE
Lindsey Kay Fey, Omaha, NE
Dyan Lee Frank, La Vista, NE
Taylar Johnston, Omaha, NE
Brittany Marie Klabunde, Omaha, NE
Laurie J. Nanfito,♦♦ Omaha, NE
Tierney A. Plowman,♦♦ Bennington, NE

Cheyenne Alea Camia Schlegel,♦ Omaha, NE
Baccalaureate Honors Designation
*** Summa Cum Laude – Cumulative GPA of 3.87 to 4.00
** Magna Cum Laude – Cumulative GPA of 3.64 to 3.86
* Cum Laude – Cumulative GPA of 3.50 to 3.63
Associate or Certificate Honors Designation
♦♦♦ Highest Distinction – Cumulative GPA of 3.87 to 4.00
♦♦ Distinction – Cumulative GPA of 3.64 to 3.86
♦ Honorable Mention – Cumulative GPA of 3.50 to 3.63
E- Educated Citizen Honor Society