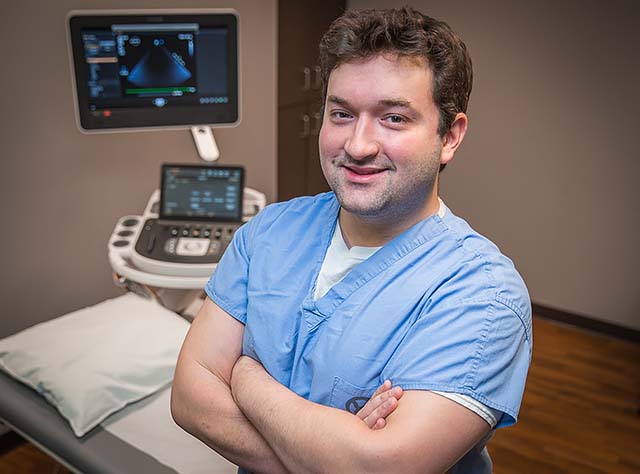 "I chose this profession because of the importance of it. Cardiovascular sonographers are essentially the first line of defense for ruling out cardiac and vascular disease."
During a recent workday at Methodist Hospital, Alex Belsky took part in a unique procedure that let him see the impact members of his profession can make.
"This one was an emergency situation," said Alex. "The cardiologist needed ultrasound guidance to place a needle into the fluid-filled sac around a patient's heart to draw off excess fluid."
The procedure was a success, and the story illustrates how cardiovascular sonography is an integral part of healthcare.
Drawn to Cardio
Alex recently graduated from Nebraska Methodist College with his Associate of Science degree in sonography. He majored in Cardiovascular Sonography, a job that he performs daily at Methodist Hospital. For Alex, specializing in this field was an easy choice to make.
"The diagnosis of cardiovascular disease is so important," said Alex. "If the heart does not work correctly, or if there is a blockage in an artery or vein, other organs will not work correctly."
Diagnosis and treatment cannot begin until a cardiovascular sonographer, like Alex, provides an accurate ultrasound of the heart and/or circulatory (vascular) systems in the body. From the ultrasound images, the sonographer builds a report of preliminary findings. Next, a cardiologist or vascular surgeon reviews the results and determines the best course of action for the patient.
"We have to be the eyes for the physicians," said Alex. "They cannot make an appropriate diagnosis unless we can show the problem to them."
Every Day Is Unique
The life of a cardiovascular sonographer is one where, truly, anything can happen.
One day, you could have a series of fairly standard tests whose results you pass along to the cardiologist.
The next, you could be assisting in a procedure like the one Alex performed recently, an emergency pericardial effusion, where the speed and accuracy of the actions you take make a real and immediate difference in the patient's outcome.
Alex understands that every test and aspect of his job is important, whether routine or emergency. He also believes that the daily opportunities to connect with patients make his career especially fulfilling.
"A big part of our job is to try to help lift patients' spirits while they're facing health issues," said Alex. "I have had patients say they would only come to Methodist because of the outstanding care they receive from the employees who work here."
From College to the Hospital, Alex Remains a Part of the Methodist Family
That kind of feedback means a lot to Alex, who is thrilled to work at a facility that's renowned within the area for the compassion shown to patients.
"My favorite part about working for Methodist would be the other employees," said Alex. "Everyone I work with is working hard to facilitate the patient's recovery."
That attention to compassion within healthcare is something that starts early on at Nebraska Methodist College. In addition to the technical aspects of healthcare, NMC also emphasizes the subtle ways that every member of the care team can positively impact a patient's life. Alex has learned this means truly treating each person as an individual.
This type of learning environment is made possible through the unique interaction between professors and students at NMC, something that Alex appreciated throughout the 21-month associate degree program.
"One of my favorite parts about going to Nebraska Methodist College for Cardiovascular Sonography was the student-to-teacher ratio for my specialty: typically one teacher to four or five students. This provides for a much more conducive learning environment."
Alex has a long career ahead of him, yet he says no matter how medicine and medical technology evolve, one thing will never change:
"The most rewarding part of my job is being able to locate the cause of why someone is not feeling well so doctors can do whatever it takes to bring the patient back to health."
Every day, Alex is making a real difference.
Cardiovascular sonography is one of two sonography tracks offered at Nebraska Methodist College. The other is multispecialty sonography, which focuses on a variety of other systems within the human body.