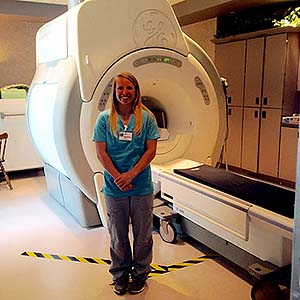 Today we're highlighting one of the most image-conscious programs at Nebraska Methodist College: the MRI certificate program!
MRI (that's Magnetic Resonance Imaging to you and me) technologists have a unique job. They're highly trained in the usage of a piece of medical equipment that's absolutely vital to a successful healthcare diagnosis.
Without people available to manage and operate the machine as well as to interpret the data gleaned, it would be impossible to get an accurate assessment of the patient, including all injuries and diseases plaguing that individual.
The Nebraska Methodist College Difference
There are a few ways that NMC differentiates its MRI certificate program from others in the area. For one thing, the courses are offered online. And while some institutions require up to a full year in order to gain the certificate, we prepare students to be eligible for their MRI boards in just 10 to 15 weeks. We also give students the chance to transfer these credits directly into the Bachelor of Imaging Sciences.
That's another great thing about this degree: while it's true that you need an ARRT (American Registry of Radiologic Technology) Certification in order to take the course, you can also approach the MRI program as an elective within the Imaging Sciences branch of the college.
Turning An Education Into A Career
It's one thing to tell you about all the fabulous things happening within the MRI program at Nebraska Methodist College, but we figured it'd be better if you hear it firsthand from a student. That's why we spoke with Jamie Seger, a recent graduate who received her Bachelor of Imaging Sciences through NMC and who currently holds her MRI certificate. Jamie serves on the governing board at Bryan West Medical Hospital's Radiology Department, where she works as an MRI technologist and a PRN within the X-ray department.
"Methodist prepared me to be a better healthcare provider. They gave me the tools to be successful."
- Jamie Seger, NMC Graduate
"During X-ray School we were able to rotate to different hospitals and clinics every 5 weeks," she said. "This was a great experience for me because I was taken out of my comfort zone. We were constantly changing sites and locations. This is what you need in order to work in a fast-paced field like Radiology. Once you got comfortable with a site, it was time for you to move to the next one."
NMC's clinical experience stands out because of the flexibility offered to students. We offer an externship format that actually allows the student to pick their site (or, in Jamie's case, sites). Once you've begun, you can choose to complete anywhere from 85 to 510 clinical hours depending on your needs and preferences.
"It was a good change of pace and you got to experience something new with each site you visited. There was always new equipment, new faces, new technology, and new doctors. One thing I have learned about this field is that it is ever-changing so in order to keep up with it you have to adapt quickly.
"Methodist helped me in this aspect. I was able to adapt to a new place very quickly and learn as much as I could in a short amount of time. I know that many other schools do not do this and it was a huge advantage to me to get this kind of experience."
More Than Just Classroom Study
When asked what her most memorable experience was at NMC, the answer took us a bit by surprise, but it speaks to how invested the college is in getting students into a hands-on learning environment far removed from the typical classroom setting.
"My favorite experience with the college is when the x-ray department volunteered with Habitat for Humanity. It was awesome to see my class come together and work to build houses for people in need. We did this twice over the two years that I attended school there.
"It was a humbling moment when they (the family moving into the house) had told their story about finally getting accepted for a house to live in after struggling for so long. We got to work right alongside the family, building the house where they were going to spend most of their time trying to build a new life for themselves."
This is something that we hope everyone understands about NMC. While it's true that you can get in and out of the MRI certification course quickly if that suits your career and lifestyle, we also hope you'll remember that you're always a part of our community. We don't take our role in the healthcare field lightly, and we want to offer experiences that shape not just your career, but the way you view the world at large.
"I finished school while working a full time job, having clinical, and going to college," said Ms. Seger. "NMC makes it easy for you to do that because they work with your schedule…the teachers were helpful in getting you where you needed to be in order to graduate on time.
"Through both clinical experiences and school work, Methodist prepared me to be a better healthcare provider. They gave me the tools to be successful."
Is the MRI certificate program something you're interested in? Then click here to learn more about this exciting opportunity.