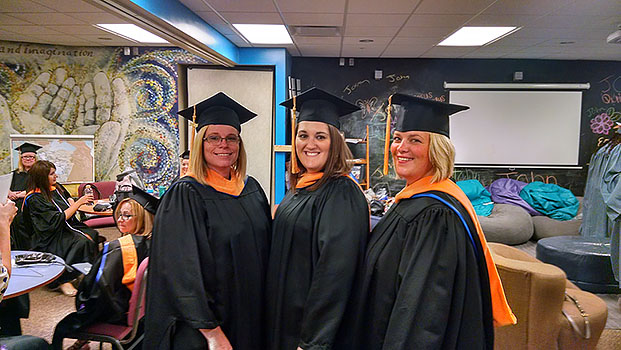 As Heather Rolling was conducting her rounds as a nurse within the Methodist Health System, something stood out to her and her colleagues: when nurses undergo a shift change, they visit the beds of each and every patient to conduct a bedside report. That way, the incoming nurse is informed of the patients and their conditions.
This got Heather and her fellow Master of Science in Nursing students Jaclyn Hoyt and Jessica Pauley thinking about the value of the procedure. Together, they compiled evidence that highlighted just how important this bedside report can be in terms of improving patient safety.
The three nurses, now officially graduates of Nebraska Methodist College's MSN program, worked diligently under the tutelage of Dr. Kari Wade, and their efforts have certainly paid off: their work has been published in the Virginia Henderson Global Nursing e-Repository, a resource of the Honor Society of Nursing, Sigma Theta Tau International.
"Organizations must find better ways to communicate..."
I recently spoke with Heather, who was able to fill me in on the results of her group's team efforts, which were conducted jointly as part of the MSN program's Capstone I and II courses at NMC.
"Our project was able to show that bedside reports increased patient and nurse satisfaction while decreasing the cost associated with overlapping shifts during end of shift reports."
This isn't just a case where hospitals are fixing what wasn't broken. As Heather explained it, altering the reporting structure can be incredibly beneficial both to the patient and to the hospital responsible for care.
"With the changes in healthcare, organizations must find better ways to communicate with patients as well as each other," she said. "Hospital payment structures are directly related to patient satisfaction, and the bedside nursing report is one intervention shown to improve that satisfaction.
"Novice nurses can also benefit greatly from bedside reporting because there are many learning opportunities during the report. The novice nurse is able to ask crucial questions in 'real time' rather than after a report."
"NMC was the clear choice for all of us..."
As previously mentioned, Heather and her colleagues recently graduated from the MSN program at Nebraska Methodist College, Heather from the Nurse Executive track and Jaclyn and Jessica from the Nurse Educator track. I asked Heather about her experience at NMC and how it prepared her for a career of helping people.
"NMC was the clear choice for all of us because of the flexibility online courses give the student when balancing school and personal and professional obligations.
"The faculty have been wonderful. They are engaged with the issues surrounding the nursing profession and push us to our full potential."
"Education Should Be a Lifelong Adventure"
The nursing industry has certainly shifted toward a system that favors a nurse with at least a BSN. We're also seeing more and more nurses go the route Heather and her colleagues took to pursue an even more advanced degree in the field. Everyone has their own unique reasons for wanting to pursue their education, and I wanted to know why Heather in particular opted to earn her MSN degree.
"Education should be a lifelong adventure," she said. "While we all were drawn to go back to school for different reasons, one theme was true with all of us: we want to help shape the future of nursing."
Congratulations to Heather, Jaclyn and Jessica on their spectacular work and their continued efforts to improve patient care.