NMC Students Meet One of Nebraska's First Occupational Therapists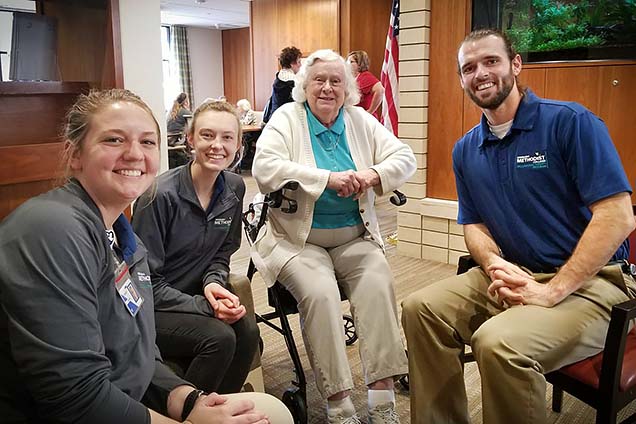 It isn't every day that students get to meet a pioneer in their chosen field.
Lucy Fowler, 86, one of Nebraska's first occupational therapists, shared memories and rare insights with students from NMC's Master of Occupational Therapy (MOT) program.
The visit was in conjunction with the students' evidence-based practice for productive aging.
Lucy told the students she became an occupational therapist when the field was in its infancy, enrolling in the nation's second-ever OT class against her family's wishes. She'd been expected to follow in the footsteps of her father, a physician, and attend medical school as he and many other family members had.
Instead, Lucy chose a new and different way to provide healthcare. She shared her passion for OT with the students, along with insights into how the field evolved. In the early years, OT focused on the therapeutic use of crafts to treat clients.
"It was a lovely time getting to talk to Lucy," said Cassidy Bentley, OTS. "She was very passionate and proud to be one of the first OTs ever."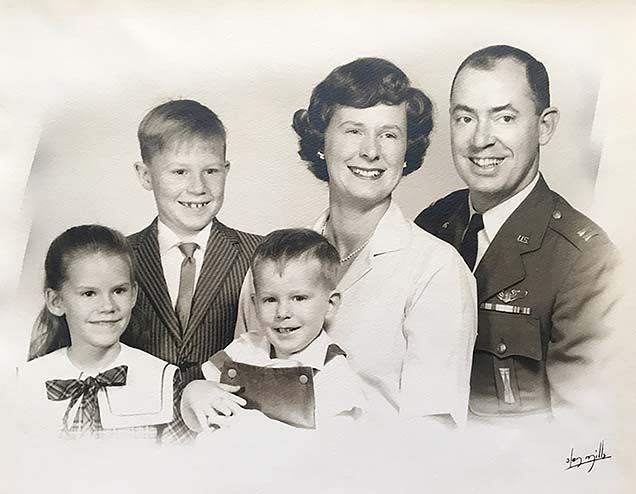 Lucy Fowler, OT, with her beloved husband, Charles Worthington "Worthy" Fowler II, USAF Colonel Retired; their daughter, Ellen; and sons, Charles Worthington III and Timothy. Lucy worked as an OT in England, Germany, Spain and the U.S. — and loved every moment of her career.
"One of the things Lucy said that was remarkable to me," said Levi Clifton, OTS, "is that her professors were the ones who wrote one of our main textbooks."
Lucy learned from the legendary Clare S. Spackman, MS, OTR (1909–1992) and Helen Willard BS, OTR, FAOTA (1894–1980), authors of the first comprehensive occupational therapy textbook: Principles of Occupational Therapy. This landmark book, published in 1947 and now in its twelfth edition, is known to OT students worldwide simply as "Willard and Spackman."
"Today, everything is evidence-based," said Levi, "but one thing that has not changed is the primary focus on client-centered care and the use of occupation in the treatment plans, goals and outcomes of each client."
It is the holistic approach to care that attracted Lucy to the field and continues to draw students to occupational therapy.
"I fell in love with the concept of helping to heal mind, body and soul when I was about 19 and chose to pursue OT as a career," said Hannah Schnacker, OTS. "I also have two family members who are OTs, and they absolutely love their jobs."
Cassidy, Levi and Hannah are among the 47 students, representing 14 states, enrolled in NMC's MOT program, which recently earned accreditation by the Accreditation Council for Occupational Therapy Education (ACOTE) of the American Occupational Therapy Association (AOTA).
To help meet the growing demand for OTs, NMC opened the MOT program in fall 2016, and the first class will graduate in August 2018.
Shown left to right in photo at top of story: Cassidy Bentley, Hannah Schnacker, Lucy Fowler, Levi Clifton.