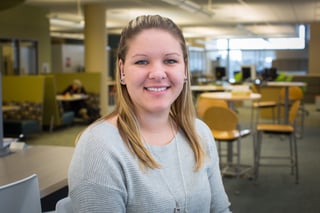 You could say Jess's passion for nursing began early. After sun-kissed summers at the pool as a certified lifeguard as a teenager, watching her mother care for elderly people at the retirement home and working through her father's death after a terminal illness, Jess knew she wanted to help others, and nursing was where she wanted to be.
Now, Jess is fulfilling her childhood dream: She just finished her first semester at NMC to become a Registered Nurse.
After high school, she earned her Certified Nursing Assistant (CNA) and Medication Aide certifications and began her career filling those same positions for Skyline Retirement. Here, Jess began to make a name for herself. She earned a reputation for her smiles and her excellent patient interaction, but even then, she knew she wanted to do more.
"Anytime I had to page an RN for help I thought, 'I should be the one doing this,'" Jess said. "I just needed to find a school that would work with my schedule and life as a mom."
Finding the Right Fit
After Googling schools, requirements and reputations, she received a referral about Nebraska Methodist College, with a friend calling the Methodist Health System the "best hospital in the city." That was all Jess needed to hear.
"I wanted to learn at a school that trained students to save lives," she said. "I had to get in."
While she toured the school with the admissions team, Jess couldn't help but notice that everyone was friendly but busy, racking their brains with definitions, procedures and notes. But it also made her realize this was where she needed to be.
"The day the acceptance letter came, I knew life would be different from here on out," Jess said.
The Start of Something Wonderful
Just like many other students on their first day of class, she felt the first-day jitters, despite her history as a seasoned healthcare professional. After the first week, however, Jess zeroed in on her goal to become an RN. She was doing it: She was a nursing student!
"Going from CNA to nursing student was exactly what I needed," she said. "The large homework load was a lot to take, but I dedicated myself to each assignment."
During many Deja Brew pots of coffee and mozzarella sticks, and hours of painstaking notes, Jess encountered classes that were easy for her, like NRS 100, and others that were "monsters," such as Anatomy and Physiology 1 - classes she hadn't taken since high school.
What really helped Jess get through her first semester was her introduction to Supplemental Instruction (SI). In SI, an upperclassman tutors other students. After only two sessions of SI, she was able to break the concepts into more digestible pieces, and her understanding of the subject was noticeably different.
The End of the Beginning
By the end of Finals Week, Jess was a pro. She had a favorite study room, helpful peers and grades that she knew would make her son proud. Jess ended that first semester armed with not only the knowledge she needed to continue on her journey to become an RN, but the knowledge that she could handle whatever challenges school or life put in her way.
"I didn't do it alone," Jess said. "Thanks to my husband, my family and my peers for all their support."
Congratulations on your first semester at NMC, Jess!
Interested in learning more about Nebraska Methodist College yourself? Book a Personal Campus Visit with a member of our admissions team today!