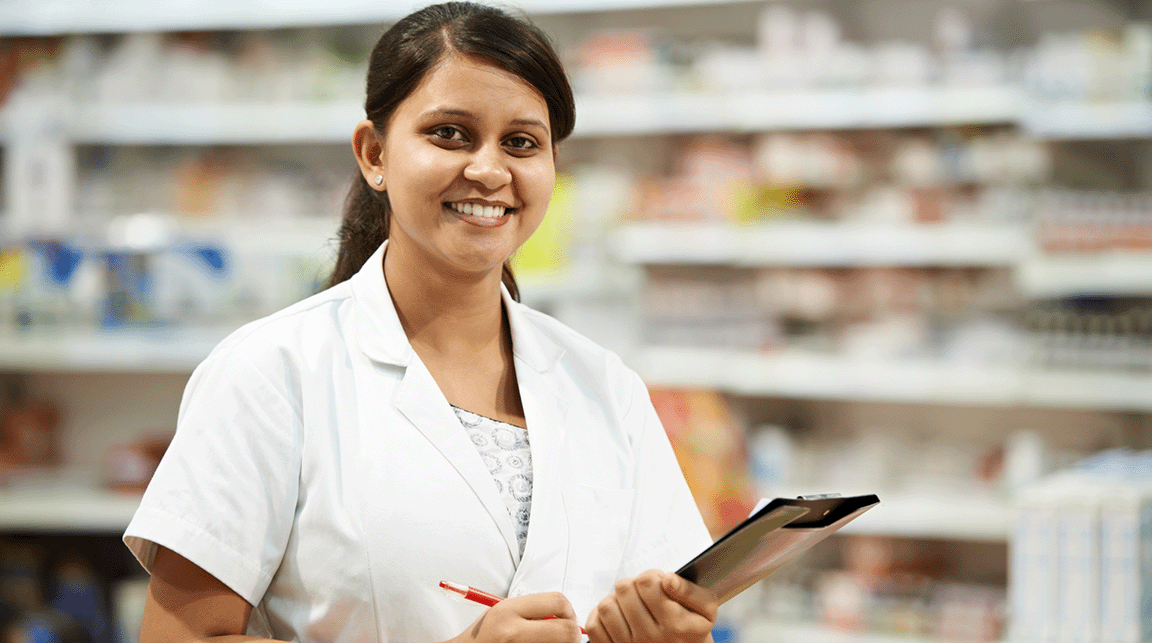 You don't need to become a pharmacist to work in a pharmacy. In fact, you don't even need a degree. You can jump straight into the pharmacy field with just a certification.
The Pharmacy Technician certificate at Nebraska Methodist College (NMC) can be completed in eight weeks and will give you a glimpse into the rewarding world of pharmacy.
Here's why this is a perfect opportunity for recent high school graduates and anyone interested in a career change.
Earn a Pharmacy Technician Salary
As a pharmacy technician, you're uniquely positioned to enjoy perks that not many straight-out-of-high-school jobs would provide, starting with pay and opportunity.
According to the U.S. Bureau of Labor Statistics, growth in the pharmacy tech sector is expected to increase 5% through 2031. The median annual salary in 2021 was $36,740, which is $17.66 per hour.
The pay rate is most likely higher than other campus jobs. That makes pharmacy tech a wonderful job prospect for individuals who want to work full-time or those who are interested in part-time hours while in college.
Gain Experience in a Healthcare Field
If you have an interest in becoming a pharmacist, then becoming a pharmacy technician will allow you to get a front-row seat to that career field.
As a pharmacy technician, you'll get to see all the things pharmacists dodaily. You'll interact with them regularly as they fill prescriptions, give advice and provide important healthcare service to everyone who comes in needing assistance.
Many pharmacy technicians have their interests confirmed, discovering that work as a pharmacist is everything they thought it would be. While others, who may have been on the fence about applying to pharmacy school, determine that life as a pharmacist might not be for them.
Being a pharm tech removes all the question marks, providing you with a chance to identify where you belong in your career.
Pharm Tech is a Launching Point to Pharmacy School
Not only are you taking the opportunity to determine if a career in the pharmacy is the best fit for you, you're also allowing colleges to determine if you're the right fit for them!
When you have employment in a pharmacy on your resume, colleges consider that when deciding on your pharmacy school acceptance. Certification as a pharm tech, plus the months and years you work in that position, conveys your abilities and demonstrates to selection committees that you're committed to working in a pharmacy.
If you know that a career as a pharmacist is what you're destined for, then you want to give yourself the best chance possible at living out that dream. Getting into the pharmacy quickly is imperative, and becoming a pharm tech is how you do that.
Gain Valuable Healthcare Experience
Even if you decide that becoming a pharmacist isn't what you ultimately want or know that a long-term pharmacy career isn't for you from the beginning, you won't be wasting your time as a pharm tech. Background as a pharm tech is an incredible resume builder when you apply for other types of opportunities.
Any healthcare experience, particularly one requiring a certification, sends an excellent signal to whatever college or job you ultimately apply for, especially if you're seeking a different degree in the nursing or allied health sectors.
Maybe you realize that you enjoy being a pharm tech, but you want to be more involved with medical procedures. You might pursue work as a radiologic technologist. You've already been helping people, but your new path just allows you to do that in a different way. A college selection committee sees your dedication to care, and your pharm tech background allows you to transition easily to a new role helping people.
Pharmacy Technician is a Rewarding Career
Maybe you're thinking that we're looking too far into the future. The truth is that becoming a pharmacy technician is a rewarding path on its own.
Whether you work for a year or even make a career out of your position in the pharmacy, the skills you learn and the people you interact with will make your time as a pharm tech immensely fulfilling.
You'll have the chance to make a real difference in a person's life through work that's anything but mundane.
How to Apply to the Pharm Tech Program
NMC's pharm tech program features a 10-week hybrid curriculum with online modules and an in-person skills lab.
Students also complete 40 hours of experiential training at local pharmacies.
Students that complete all course requirements and have a cumulative grade of 80% or higher will take the Nebraska Pharmacy Technician Certification exam. Those who pass the exam are able to use the credentials of NE-CPhT.
Apply to the pharmacy technician certificate program.
To learn more about the Pharmacy Technician program at NMC, download our certificate guide today!