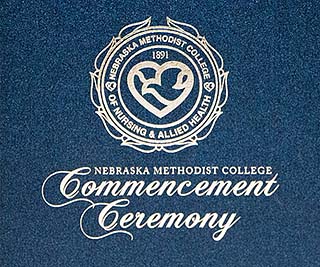 Today's the day!
This afternoon, Nebraska Methodist College students from across the allied health spectrum will pick up their diplomas and, in doing, take the next step in their nursing and healthcare careers.
Commencement will be held at St. Andrew's United Methodist Church, and friends and family are all invited to take part in the ceremony, the latest incarnation of a Nebraska Methodist College event with roots dating back to the 1890s.
Dr. Dennis Joslin, president and CEO of NMC, discussed how proud he is of the students who have recently passed through the halls of our college, all with the goal of making a career out of helping others.
"These graduates represent the values and traditions that we hold dear at our institution," said Dr. Joslin. "What better way to acknowledge our 125-year history than by looking to the future with these exceptional individuals. We can't wait to see what incredible things these caring and compassionate men and women will accomplish in their healthcare careers."
The list of graduates, along with their degrees and any special honors acquired, is as follows:
Master of Science, Healthcare Operations Management
Iowa
Scott Phillip Beckman, Council Bluffs
Paul Michael Larsen, Council Bluffs
Brooke Renee Thacker, Sioux City
Illinois
Jennifer Morgan Hirsh, Naperville
Nebraska
Quinn Kennedy Babe, Omaha
Brynda Lou Houser, Bennington
Tennessee
Regina Faye Cassidy, Murfreesboro
Master of Science, Health Promotion Management
Iowa
Mindy Ann Cathcart, Polk City
Leona Lynn Halstead, Missouri Valley
Illinois
Brittany Markley, Chicago
Nebraska
Megan Snyder, Omaha
Leslie Ann Turner, Omaha
Sarah Kathleen Wolford, McCook
Pennsylvania
Ryan Christopher Kunkle, Sinking Spring
Texas
Jordan Hyon Jong Jeon, Houston
Master of Science, Nursing
Iowa
Mandy Rae Iverson, Council Bluffs
Denise Renee McCurley, Pisgah
Rachel Elizabeth Ratekin, Council Bluffs
Crystal Lee Smay, Council Bluffs
Whitney Nicole Van De Graaff, Iowa City
Minnesota
Jessica Lee Jagodzinske, Moorhead
Nebraska
Kim Hook, Omaha
Leanne Irene McDonald, Omaha
Amy Jo Morris, Omaha
Renee Lynn Paulin, Omaha
Katherine Ann Spellerberg, Omaha
South Dakota
Brittney Lauren Fischer, Sioux Falls
Nicole Marie Jonas, Sioux Falls
Bachelor of Science, Imaging Sciences
Taryn Sue Day**, San Antonio, Texas
Shafer C. Fox*, Axtell, Nebraska
Elizabeth Renae Goedert**, Omaha, Nebraska
Bachelor of Science, Healthcare Administration
Charity Pfeifer*, Lincoln, Nebraska
Bachelor of Science, Health Studies
JaNae A. Vinson, Omaha, Nebraska
Bachelor of Science, Nursing
Iowa
Holly Lynn Brockman, Council Bluffs
Jill Lynn Kammrad-Hunt, Council Bluffs
Holly Marie Miller**, Missouri Valley
Nebraska
Crisa Lee Albright, Papillion
Ashlee Michelle Au**, Omaha
Amanda Lynn Bedel**, Omaha
Alison Kathleen Bell***, Omaha
Sara Katherine Berens, Omaha
Stephanie Lynn Beutel, Omaha
Kelsey Jean Braesch, Gretna
Haiden Paige Brand, Omaha
Brittany Lynn Cornwell, Fullerton
Katie Jo Louise Demaree, Omaha
Kristine Elizabeth Deseck, Papillion
Kyleen Marie Dewey, Omaha
Haley Marie Duncan, Shelby
Melanie Sue Frear***, Wood River
Alexandria Ruth Friend, Hastings
Kali Marie Gardner*, Norfolk
Lauren Marie Giroux*, Omaha
Scott Jordan Greenwood**, Bellevue
Bridget Elizabeth Hegarty, Omaha
Michelle LeAnn Hubbard, Papillion
Alyssa Renee Hunt***, Omaha
Kylie Reanne Jarecke, Clarks
Sajna KajtazovicE, Omaha
Elizabeth Marie Kochanowicz, Omaha
Emma Lene Legett*E, Papillion
Brittney Elaine Lowe, Omaha
Karissa Nicole Madler, Papillion
Kim A. MartensE, Omaha
Ingrid Janeth Medina**, Omaha
Evan Marie Meysenburg, Omaha
Lindsey Marie Mittelbrun**, Omaha
Leah Beatrice Mittermeier, LaVista
Kylee Kay Mumma*, Omaha
Kayla Christine Munter, Wausa
Kayla Amber Neemann***, Gretna
Ishmael Karim Patterson, Omaha
Tammie Lee Preissler***, Giltner
Bethany Lynn Rollag*, Omaha
Jenae Christine Romaire, Omaha
Alissa Lee Sivinski**, Omaha
Ashley Lynn Snyder**E, Omaha
Abigail Marie Stollberg**, Scribner
Kaitlen Jo Stratman, Omaha
Jessica K. Thomas**, Omaha
Taylor Nicole Timperley**, Omaha
Sarah Ann Vaverek*, Bellevue
Brooke Ann Warner, Louisville
Ian Michael Webster, Wayne
Caitlin Marie Wells, Omaha
Brittany Alyse Westberg**, Omaha
Baccalaureate Honors Designation
*** Summa Cum Laude – Cumulative GPA of 3.87 to 4.00
** Magna Cum Laude – Cumulative GPA of 3.64 to 3.86
* Cum Laude – Cumulative GPA of 3.50 to 3.63
E- Educated Citizen Honor Society