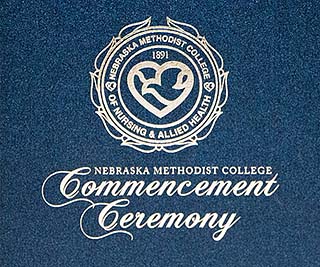 Today's the day!
This afternoon, Nebraska Methodist College students from across the allied health spectrum will pick up their diplomas and, in doing, take the next step in their nursing and healthcare careers.
Commencement will be held at St. Andrew's United Methodist Church, and friends and family are all invited to take part in the ceremony, the latest incarnation of a Nebraska Methodist College event with roots dating back to the 1890s.
Dr. Dennis Joslin, president and CEO of NMC, discussed how proud he is of the students who have recently passed through the halls of our college, all with the goal of making a career out of helping others.
"These graduates represent the values and traditions that we hold dear at our institution," said Dr. Joslin. "What better way to acknowledge our 125-year history than by looking to the future with these exceptional individuals. We can't wait to see what incredible things these caring and compassionate men and women will accomplish in their healthcare careers."
The list of graduates, along with their degrees and any special honors acquired, is as follows:
Master of Science, Academic Program Administration & Leadership
Iowa
Jay A. Rakus, Bettendorf, Iowa
Dee Ann Kilby, Davenport, Iowa
Evalene Martin, Waverly, Iowa
Louisiana
Eboni Guidry Saurage, Plaquemine, La.
Nebraska
Megan Anne Schultz, Lincoln
Stacy Lynn Walter, Omaha
Ohio
Kristina K. Darnell, Ironton, OH
Master of Science, Healthcare Operations Management
Iowa
Michelle Kaufman, Council Bluffs, IA
Kansas
Nichol Ann Nardozzi, Topeka, KS
Nebraska
Aimee Renae Hillyard, Elkhorn
Lauren Hiatt Robins, Elkhorn
Margaret Ann Albano, Omaha
Ashley Renae Colburn, Omaha
Lindsay Ellis Greunke, Omaha
Kristopher McVaney, Omaha
Margaret Olson, Omaha
Stephanie L. Siemsen, Papillion
Kelli Michelle Hansen, Plattsmouth
Master of Science, Health Promotion Management
California
Patty Purpur de Vries, Los Gatos, Calif.
Colorado
Bailey Melissa Murphy, Thornton, Colo.
Florida
Kyle J. Murdock, St. Augustine, Fla.
Georgia
Greta Renee Schramm, Norcross, Ga.
Missouri
Laura Brault, Warrensburg, Mo.
Nebraska
Paula A. Latham, Omaha
Brooke Nicole Williams, Omaha
Wisconsin
Deborah Ann Lehman, Manitowoc, Wis.
Tina Marie Jorgensen, Oneida, Wis.
Master of Science in Nursing
Colorado
Kayla Smelker Meints, Colorado Springs, Colo.
Iowa
Rachel Lynn Johnson, Avoca, Iowa
Amy Lynn Dimon, Council Bluffs, Iowa
Melinda A. Schneider, Council Bluffs, Iowa
Heather Lanee Rasmussen, Manilla, Iowa
Jennifer Marie Leffler, Manning, Iowa
Tiffany M. Elias, Sioux City, Iowa
Nebraska
Rebecca VanWinkle, Gretna
Paige Elizabeth VanWinkle, Kearney
Stephanie Jo Bricker, McCook
Julie L. Redwing, Norfolk
Brooke Danielle Hancock, Omaha
Brittany Nicole Hightower, Omaha
Barbara Elizabeth Johnson, Omaha
Jacqueline Marie Kussman, Omaha
Sarah Renee Malcom, Omaha
James L. Pullen, Omaha
Linda A. Spittler, Omaha
Caitlin Danielle Stom, Omaha
Nicole Ann Petersen, Omaha
Jennifer Renee Zuegner, Omaha
Cathleen Kay Handke, Pierce
South Dakota
Jeremy McClennen, Brandon, S.D.
Rachel Kristine Olinger, Brandon, S.D.
Post-Master's Certificate, Healthcare Operations Management
Amir Mohammad- Orange, Conn.
Post-Master's Certificate, Nurse Educator
Kristina Currier, Zionsville, Ind.
Bachelor of Science, Healthcare Administration
Ronald Andrew McKamy, La Vista
Jennifer Barnes-Pollock,** Omaha
Miranda Danielle Leaman,* Omaha
Bachelor of Science, Health Studies
Heidi Kristin Harper,** Bellevue
Lindsey Kay Fey, Omaha
Bachelor of Science, Imaging Sciences
Kayla Katherine Ledger,** Omaha
Bachelor of Science in Nursing
Iowa
Megan Marie Osborne, Carter Lake, IA
Lizabeth Jean Cooper,** Red Oak, IA
Missouri
Kaylee Ann Nelson,** Maryville, MO
Nebraska
Alyssa G. Martinez, Bellevue
Melanie Rae Zeimet,E Blair
Taylor K. Hayes, Elkhorn
Amy Lynn Rapp,*** Elkhorn
Jamie L. Carnes, Gretna
Emily Jean Ribeiro,** Lincoln
Holly Anne Armentrout, Omaha
Logan Garth Barnes, Omaha
Kellee J. Christiansen,* Omaha
Dana Mae Griffin,*** Omaha
Kelsey Joann Hoelting, Omaha
Kathleen Marie Hurley,** Omaha
Megan Kay Kelley-Lodhia, Omaha
Kelsey Kay Kreifels, Omaha
Sara Lynn McDonald,** Omaha
Amy Kathryn Miller,*** Omaha
Shannon Marie Murphy,E Omaha
Terome Nunes, Omaha
Kiley O'Connor,* Omaha
Matthew Allen Peavy, Omaha
Christine Wessel Rock,*** Omaha
Stephanie Sheridan,** Omaha
Neasha Alexis Stene,** Omaha
Alissa Leigh Tripp, Omaha
Vanessa Lee Volkens, Omaha
Amanda Sue Voyta, Omaha
Stacey B. Watne,*** Omaha
Jenna LeRae Welton, Omaha
Amanda Elizabeth Wyant, Omaha
Samantha Jo Bober,** Papillion
Rona Michelle Pape, Papillion
Maureen Leigh Shea, Papillion
Lindsay Clare Temme, Petersburg
Chanda Richele Anderson, Pierce
KaSandra Jean Bergland, Plattsmouth
Nicole Ann Marie Cox, Plattsmouth
Shannon Michelle Olson, Tekamah
Venessa Coleen Davis, Wahoo
Associate of Science, Health Studies
Tierney A. Plowman, Bennington
Certificate, Computed Tomography
Kayla Katherine Ledger,** Omaha
Certificate, Magnetic Resonance Imaging
Iowa
Ashley Rose Burbridge,*** Council Bluffs, Iowa
Nebraska
Kathleen M. Franco, Omaha, NE
Baccalaureate Honors Designation
*** Summa Cum Laude – Cumulative GPA of 3.87 to 4.00
** Magna Cum Laude – Cumulative GPA of 3.64 to 3.86
* Cum Laude – Cumulative GPA of 3.50 to 3.63
E- Educated Citizen Honor Society