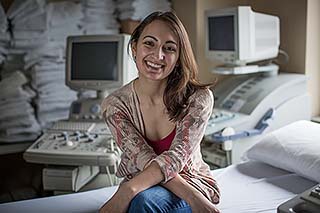 A science maven, Felicia graduated from a large school in Colorado with a bachelor's degree in Health and Exercise Sciences, originally thinking she wanted to work with animals. But witnessing a wolf being put down changed her outlook.
Rather than continue on a path she was no longer sure about, Felicia looked for a program that would allow her to help people.
"It's really difficult for me to be selfish; I wouldn't be happy in a career in which I couldn't help people directly," Felicia said.
Felicia began a three-month healthcare job shadowing program in Denver. She followed surgeons, physical therapy assistants and nurses to get a sense of what might be her preferred career, but nothing felt right. It was only during her last round of shadowing that she had the opportunity to interact with a sonographer. Almost instantly, she knew what she wanted to do with her life.
"Seeing how sonographers used soundwaves was amazing to me. Music has always been huge in my family, and it made me fall in love with the science behind it," Felicia said.
Echoes of a Career
Now that she had found her passion in sonography, the next step was finding a program that matched her needs. Felicia initially wanted something that was close to her home in Colorado so she could be around while her mother was experiencing medical problems.
"I went online and kept running into programs that had ridiculous requirements before i could even learn about sonography. I knew at Methodist I could immerse myself almost immediately," she said.
Although it was a much further distance than she was at first comfortable with, Felicia made the decision to move out of state and come to Omaha for the Multispecialty Sonography program. Her impression of Nebraska Methodist College proved to be accurate. Sonography instruction began almost immediately, and she and her classmates bonded quickly.
"We're a bit different than other groups at NMC. We see movies together, go shopping and help the first-year students now," she said.
Standing Out
At NMC, Felicia not only learned the skills necessary to be an excellent sonographer, but she learned firsthand how she could improve the patient experience. This was incredibly important to her given her recent history.
"I want to treat each patient like I wanted my mom to be treated when she had appointments," she said.
This insight made Felicia a role model for her sonography peers, who praise her for her relaxed yet caring attitude with patients. These interactions further solidified her choice to become a sonographer.
"Whether someone's angry or having a bad day, I make sure to ask how they are. Then I let them do the talking," Felicia said. "Some people really want to talk, and others just need me to walk them through step by step what's going on."
The Difficult Choice
When her mother passed away in December 2015, Felicia was faced with one of the most difficult decisions for a student: continue the program or drop out to help her family.
Felicia's family offered their support no matter what she chose, but in the end, she drew strength from her mother. While many students would have dropped out (which would have been a completely understandable decision), Felicia persevered. She will graduate in May, picking up her diploma at St. Andrew's United Methodist Church with her father in attendance.
"My family has always said, 'If you want it, go for it,' but it was my mom's words who helped make my decision. She really wanted me to finish because she could see I was doing well, and it was my dream," she said.
After graduation, Felicia plans to move back to her "true" home in Denver.
"I miss my mountains and being in the heart of the city," she said.
Felicia has been through a lot this last year, but given the compassion and the fighting spirit she has shown during her time at Nebraska Methodist College, we're confident that she will make an excellent sonographer, using her own experience to help countless others in the coming decades.
Interested in learning more about multispecialty sonography at NMC? Download our Multispecialty Sonography Degree Guide today.