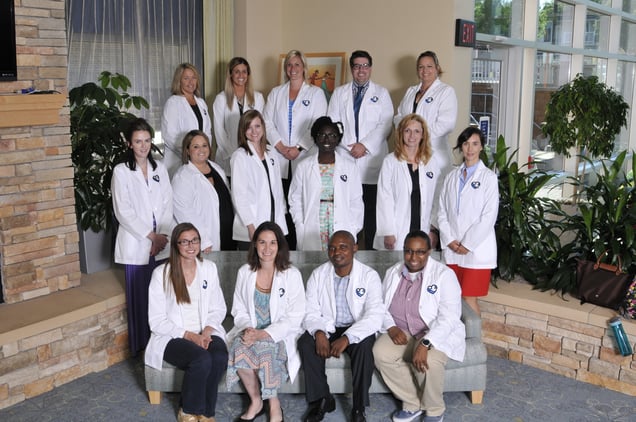 Fifteen students in the Doctor of Nursing Practice program received their white coats during a ceremony Friday at the Clark Center.
Keynote speaker Kathy Hoebelheinrich, MSN, APRN-NP, ANP-BC, BC-ADM, CDE detailed the history and tradition of white coats and of nursing caps.
Nursing caps, she explained, were first designed to keep hair out of nurses' faces and off their patients. Many hospitals even had their own design, and nurses wore them proudly, if not without some disdain for their tendency to get caught in equipment. The caps continued to be worn during ceremonies as a symbol, and were often received after the first semester of classes and before clinical rotations.
White coats were first introduced to physicians to acknowledge the shift to the scientific process of modern medicine. To distinguish themselves, physicians took on the most-recognizable symbol of scientists: the white lab coat.
"For medical professions, the lab coat represents a commitment to scientific rigor and compassionate care," said Hoebelheinrich, who is a nurse consultant with the Nebraska Department of Health and Human Services. "It also identifies the wearer as a member of a community of professionals. It's a badge of honor, and it's not unlike the cap that we used to wear a generation ago. It's symbolic of the hours of study and dedication we have to our profession as you continue the journey and transition from a registered nurse to a nurse practitioner."
The students represent the third cohort of DNP students at Nebraska Methodist College and begin their first clinical class in August.
Faculty, staff and alumni were invited to sponsor the white coats for the students. The students and their white coat sponsors are:
Genevieve Allou – Angela Heesacker Smith, Director, Alumni Engagement
Chanda Anderson – Samantha Barnhart, PA-C, Director, Campus Health
Joseph Anthone – Lindsay Snipes, Chief Compliance Officer
Alexei Boettcher – Lisa Fuchs, Director, Clinical Education
Krista Frank – Mary Stolzer, NMC Alumna
Dana Griffin – Jackie Lee, Advisement & Outreach Coordinator
Jeanette Kennedy – Dr. Jody Woodworth, Vice President of Academic Affairs
Danielle Krohn – Dr. Tara Whitmire, Director BSN-DNP/FNP Program
Megan Lihs – Dr. Linda Foley, Director, MSN Program
Wakilongo Lwesso – Penny James, Director, Financial Aid
Lisa Peterson – Dr. Stephanie LaPuma, Dean of Health Professions
Samantha Renter – Dr. Echo Perlman, Assistant Professor, Nursing
Amber Rogers – Dr. Lin Hughes, Dean of Nursing
Jill Sheffield – Sarah Shomshor, Assistant Professor, Nursing
Jacqueline Stanzel – Dr. Alice Kindschuh, Director, Doctoral Studies
Learn more about the DNP program by downloading our Family Nurse Practitioner degree guide and registering for our DNP Preview Session.