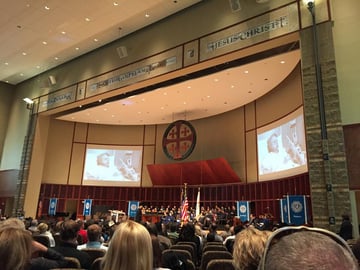 Nebraska Methodist College recently held its 2015 Spring Commencement for Nursing and Allied Health grads, and with the big 125th anniversary nearly here, the event was arguably more successful than ever!
The day kicked off with a celebratory brunch on NMC campus, where graduates had the chance to hang out with their fellow classmates, share stories about their experiences at the college, and even say goodbye to the faculty members who made a difference in their lives.
When breakfast was completed, students and their families transitioned over to St. Andrew's Methodist Church, the site of not one but TWO complete commencement ceremonies. First up were the Nursing graduates, whose achievements were recognized in a ceremony befitting those students' newly attained honors. Following that ceremony were the newly minted Allied Health professionals, whose careful study in a multitude of disciplines will allow them to make an impact in numerous aspects of the healthcare field.
After being shown a video that showcased what it means to exemplify the meaning of care in a healthcare setting, students were invited onstage to collect their diplomas, share a few words about their experiences at the college, and receive their Starfish Alumni and NMC graduate pins, which they are encouraged to keep on-hand no matter where in the world their careers may take them.
We'd like to extend a heartfelt thank you and congratulations to each and every one of our graduates, be they online or on-campus students. Nebraska Methodist College wouldn't be what it is without professional, reliable, and caring individuals like you who make such an impact on the world. Be proud of what you've accomplished.
The following is a list of students who graduated from Nebraska Methodist College in Spring 2015. If you know these individuals, wish them well on their journey deeper into the world of healthcare. Congratulations!
Baccalaureate Honors Designation
*** Summa Cum Laude – Cumulative GPA of 3.87 to 4.00
** Magna Cum Laude – Cumulative GPA of 3.64 to 3.86
* Cum Laude – Cumulative GPA of 3.50 to 3.63
Associate or Certificate Honors Designation
♦♦♦ Highest Distinction – Cumulative GPA of 3.87 to 4.00
♦♦ Distinction – Cumulative GPA of 3.64 to 3.86
♦ Honorable Mention – Cumulative GPA of 3.50 to 3.63
Master of Science, Healthcare Operations Management
Ryan Jacob Albrecht, Omaha, NE
Erica Ann Braun, Papillion, NE
Robert Thomas Crumb, Skandia, MI
Michele Marie Krajewski, Philadelphia, PA
Kendra Rae Meyer, West Des Moines, IA
Catherine Lynn Town, Richmond, MN
Amy Lynne Wyant, Council Bluffs, IA
Chyun Cheng Yao, Omaha, NE
Master of Science, Health Promotion Management
Michael Baum, Omaha, NE
Barbara Jean Hanson, Omaha, NE
Carolyn Stephanie Jacob, Springboro, OH
Jennifer Lynn Johnson, St. Petersburg, FL
Alexander Thomas Morey, Omaha, NE
Nicole Marie Osborne, St. Joseph, MO
Aaron Russell Renkenberger, Omaha, NE
Katie Marie Schoen, Omaha, NE
Brett Lansing Stidfole, Omaha, NE
Master of Science in Nursing
Anne C. Boatright, Omaha, NE
Danielle Eileen Burr, Dunbar, NE
Pamela Jean Carr, Wichita Falls, TX
Kaylar M. Griffin, Killeen, TX
Amy Thoma Grimsley, Rochester, MN
Colleen Margaret Hobbs, Omaha, NE
Danielle R. Hollenbeck, Bellevue, NE
Pamela Ann Jacobsen, Omaha, NE
Cindy L. Johnson, Omaha, NE
Shayla Ann Leinen, Harlan, IA
Jacqueline Marie Stanzel, Valley, NE
Melanie Brooke Thompson, Omaha, NE
Geri M. Tyson, Papillion, NE
Anna Lee Ulrich, Meridian, ID
Katelyn Erika van Galder, Santa Rosa Beach, FL
Post-Master's Certificate,
Healthcare Operations Management
Christopher K. Gransberry, Wheaton, MD
Bachelor of Science,
Imaging Sciences
Scott Michael Rhubottom, Council Bluffs, IA
Bachelor of Science,
Healthcare Administration
Ashley Lynn Frederick,*** Blair, NE
Teresa Ann Kendall,** Bellevue, NE
Katherine Jean Nesbit,** Omaha, NE
Molly Oetjen,** Omaha, NE
Bachelor of Science in Nursing
Sidney Leigh Adams,* Omaha, NE
Brittany Kaylene Adams, Omaha, NE
Adzoyo Sika Ayite, Omaha, NE
Analisa Nicole Best,** Omaha, NE
Darcy Rae Boger,** Omaha, NE
Cynthia Lynn Borwick,* Council Bluffs, IA
Rebecca Ray Branstiter, Omaha, NE
Ryan S. Brechbill,** Omaha, NE
Brittany Jean Brockman, Lincoln, NE
Melissa Elizabeth Brown, Omaha, NE
Toni Beth Brown,*** Omaha, NE
Melanie Rachel Burnison,*** Emerson, IA
Kenyatta Denise Coleman, Omaha, NE
Debra Kay Coleman,** Council Bluffs, IA
Sarah Elizabeth Colpitts,*** Neola, IA
Victoria Ann Davitt,* Omaha, NE
Haley Margaret DeMaris, Omaha, NE
Brian Matthew Derby,** Omaha, NE
Julia Elizabeth Dixon,* Omaha, NE
Katelyn Marie Donahue,*** Omaha, NE
Jonathan Alan Ehlers,* Madison, NE
Kirsten Marie Engelken,** Omaha, NE
Shaila Jordan Fox,** Omaha, NE
Kathryn Ashley Francisco,*** Omaha, NE
Maureen Wanjira Gatere, Omaha, NE
Olivia Elyse Gilbert, Bellevue, NE
Ashley Marie Gillilan, Omaha, NE
Stephanie Rose Goelz,* Omaha, NE
Katherine Elizabeth Gramlich, Omaha, NE
Sherry Ann Graner,*** Omaha, NE
Kaitlan Kristine Greco,* La Vista, NE
Lauren Jillaine Heine,*** Omaha, NE
Quincey Noelle Holmquist, Omaha, NE
Crystal Dawn Hraban,** Lincoln, NE
Claire Ellen Jackson,* Omaha, NE
Tessa Lauren Jacobsen, Omaha, NE
Danielle Marie Keltner,** Omaha, NE
Stacie Elizabeth Knehans, Omaha, NE
Nathaniel L. Koch, Gretna, NE
Angela Elizabeth Lichtenwaldt, Omaha, NE
Nancy C. Lozano, Omaha, NE
Nicole Dawn MacFarlane, Council Bluffs, IA
Michael David Marx, Council Bluffs, IA
Alison Lynn McKie, Omaha, NE
Erin Lyndsey McMullen, Omaha, NE
Ericka Dorette Medinger, Omaha, NE
Meagan Rae Morris,** Omaha, NE
Ashley Lorine Munter,* Omaha, NE
Norma Nkengfack Ngute, Omaha, NE
Brittany Dawn Nordby,** Logan, IA
Bree Ann Nott, Omaha, NE
Talia Lynn Osborn, Omaha, NE
Hannah Grace Park,** Elkhorn, NE
Janae Michelle Pearce,*** Omaha, NE
Sarah Ann Pelini,*** Canfield, OH
Joshua Thomas Peterson,** Kansas City, MO
Taylor Ann Peterson, Omaha, NE
Amberley Suzanne Proctor,** Omaha, NE
Alexandra Ryaan Rachuy,* Sioux City, IA
Amanda Jayne Ragland,** Treynor, IA
Amber Lynn Reasoner,* Omaha, NE
Daniel Joseph Recek,** Omaha, NE
Jessica Anne Riley,* Blair, NE
Tori Ann Ross,** Grand Island, NE
Kelsey Ann Roth,** Omaha, NE
Taylor Elizabeth Sass,** Kennard, NE
Rebecca Louise Schneider,*** Omaha, NE

Lauren Renee Siemers, Omaha, NE
Katelyn Elizabeth Smith,*** Omaha, NE
Tiffany Ann Steinke,** Omaha, NE
Jessie L. Thomas, Omaha, NE
Courtney Kay Thompson,* Columbus, NE
Annie Gabriela Torres, Papillion, NE
Bree Ashlea Tranmer, Blair, NE
Kelsey Carter Troth,* Omaha, NE

Deirdre Rae Walsh,*** Omaha, NE
Kathleen Ann Walsh, Omaha, NE
Jordan Elizabeth Wardenburg,* Maryville, MO
Miranda Kate Washington, Lincoln, NE
Ann Katherine Weidner,*** Omaha, NE
Carrie Catherine Wiese,** Columbus, NE
Bachelor of Science,
Respiratory Care
Britnee Anne Hallett,** Omaha, NE
Bachelor of Science,
Women's Medical Imaging
Kaitlyn Louise Williams,** Omaha, NE
Associate of Science, Diagnostic Medical Sonography, Cardiovascular
Kirstin Hugo,♦♦ Omaha, NE
Andrew John Malashock,♦♦ Omaha, NE
Denise Ann Reilley,♦♦♦ Wahoo, NE
Molly Christine Rensch,♦♦ Omaha, NE
Matthew Gerald Sharp,♦♦ Omaha, NE
Associate of Science, Diagnostic Medical Sonography, Multispecialty
Wendy Renee Boller,♦♦ Dorchester, NE
Taylor Ann Bopes,♦ Omaha, NE
Mehgan Christine Carlsen,♦♦♦ Council Bluffs, IA
Kendra Kay Holderman,♦♦ Orrville, OH
Megan Christine Jorgenson,♦♦ Omaha, NE
Kelsey Nicole Lancaster,♦ Omaha, NE
Christal Marie Robinson,♦♦♦ Richfield, NE
Rebekah Marie Sandoval, Omaha , NE
Presley Elizabeth Sternberg,♦ Blair, NE
Associate of Science,
Respiratory Care
Sara Noelle Bobo,♦♦ Omaha, NE
Laura Dawn Bowen, Bertrand, NE
Claudia Liliana Cervantes, Omaha, NE
Hana Martin Christenson, Omaha, NE
Megan Marie Griencewic, Omaha, NE
Danielle Lynne Jeffrey, Nebraska City, NE
Katherine Sue Kring, Ralston, NE
Kelsey Dawn Naegele, Omaha, NE
Lynette W. Nikiema, Omaha, NE
Meagan Marie Palensky,♦♦♦ Kearney, NE
Sean Patrick Reynolds, Omaha, NE
Blake Joseph Wegener, Humphrey, NE
Marvin Devon Whitehorn, Omaha, NE
Dena Jean Wilwerding, Omaha, NE
Associate of Science,
Surgical Technology
Brittany Danielle Buffum,♦♦ Omaha, NE
Victoria Anne Daher,♦♦♦ Omaha, NE
Alexandra Lynn Kush,♦ Ralston, NE
Jaycie Jane Limley,♦♦♦ Omaha, NE
Brenda Sue Mcelroy,♦♦♦ Council Bluffs, IA
Kathleen Marie Meyer, Omaha, NE
Kristyn Agnes Orsi, Omaha, NE
Associate of Science,
Physical Therapist Assistant
Emily Carole Bateman,♦♦♦ Plattsmouth, NE
Danielle Gronenthal,♦ Lindsay, NE
Keanna Kay Gross,♦♦ Omaha, NE
Claire Elizabeth Hulett, Fremont, NE
Kesha D. McMurtry,♦ Bellevue, NE
Paula Gene Banzuela Nuguid,♦ Omaha, NE
Emily Ann Petz,♦♦ West Point, NE
LeaAnn Runcie,♦♦♦ Minden, NE
Adrian Renee Stuhr, Nebraska City, NE
Megan Lynn Svoboda,♦♦ Seward, NE
Kimberly Dawn Symonds,♦ Omaha, NE