Nebraska Methodist College graduates around the region are heralded for their nursing and healthcare acumen, but this past Tuesday, the college sought to honor those persons who demonstrated exceptional work in another regard: their writing.
Since 1998, NMC has held an event called "Coffee House." Initiated by Gladys Haunton, a former faculty member, the annual event serves to recognize those members of the college whose writing output goes above and beyond standard coursework. Professors within NMC nominate students who they feel have turned in exceptional papers, and at Coffee House, those students got together to read the very work that earned such accolades with faculty.
A Round of Applause For Our 2015 Nominees
All students chosen to take part in Coffee House 2015 should be proud of their accomplishments, which are honored by way of induction into the NMC Student Writers Honor Society. Congratulations are in order for each and every inductee, pictured here: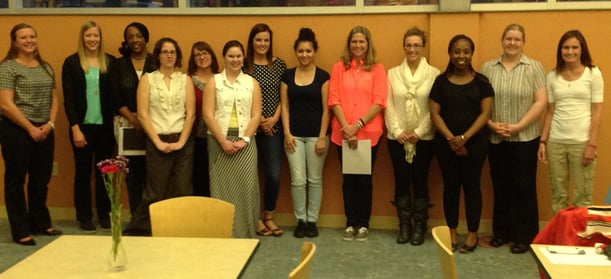 Nominees From Left to Right: Brittany Hoins-Brockman, Lea Ann Runcie, Kesha McCurtry, Teresa McAllister, Janette Stuart, Connor Currin, Danielle Vaughan, Britney Kirby, Amy Rapp, Jennifer Dobey, Maureen Gatere, Lora Burki, Bridget Hegarty (not pictured, Megan Svoboda)
In addition to being inducted into the Student Writers Honor Society, five students were selected as Winners of the Grand Prizes for Distinguished Academic Writing. The All-College Grand Prize went to…drum roll please:
Maureen Gatere! Congratulations on your outstanding accomplishment!
Maureen wasn't the only person to make a mark with her writing. Additional grand prize winners are as follows:
100-Level Course Work: Jennifer Dobey
200-Level Course Work: Lea Ann Runcie
300-Level Course Work: Lora Burki
400-Level Course Work: Brittany Hoins-Brockman
Special thanks are in order for the Writing Across the Curriculum Committee, whose sponsorship of the event made Coffee House possible, and Burke High School student Leona Dunn. Leona, a poetry team member, poetry slam competitor, and recipient of the Omaha World-Herald and UNL College of Journalism and Mass Communications's "best and brightest aspiring high school communicators" designation, was on hand to perform her poem, "Just Tell Me The Truth."
As those in attendance can attest, Coffee House 2015 was a truly exciting event, and we already can't wait to see what these bright students have up their sleeves next!