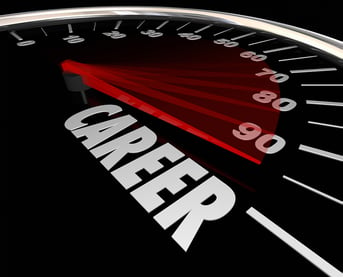 Four years. That's a long time to study for a degree if you're in a situation where you need a job FAST. The wait becomes even more excruciating if you're a transfer student who's already put time into college classes.
It doesn't have to be this way. The healthcare field offers an array of exciting professions that will allow you to enter into a career within years, months, sometimes even weeks. Many times, once a person is comfortable in their new position, they'll return to school to seek out that advanced degree.
Below, you'll find information on some of the most speed-friendly career options in healthcare. If one of these sounds like a good fit for you, you owe it to yourself to explore your opportunities. Who knows? It could be your ticket to a better future.
Note: Data regarding salary is courtesy of O*Net Online, while data regarding projected job outlook comes courtesy of the Bureau of Labor Statistics. Salary reflects the national median wage in 2014, while job growth represents estimates between 2012 and 2022. Growth and salary can both fluctuate depending on the region, so please conduct research into your particular job market for exact details.
Phlebotomist
Median 2014 Wage: $30,670
Projected Growth, 2012-2022: 27%, much faster than the average across all occupations
A phlebotomist is responsible for the collection and processing of specimens for testing. It'd be easy to say that such an individual draws blood, but their job duties might actually include a wide range of specimens and procedures that need to be followed.
At Nebraska Methodist College, students can complete this course in five to nine weeks, depending on how accelerated they want the course to be. Phlebotomy is a great option for people who want to begin work at a clinic or similar setting pronto.
Medical Assistant
Median 2014 Wage: $29,960
Projected Growth, 2012-2022: 29%, much faster than the average across all occupations
A medical assistant provides the administrative support necessary to allow a healthcare environment to fully function. You could be on the phone with patients, setting up appointments with doctors and recording medical histories and insurance information.
This is a critical role in a bustling healthcare setting, with a wide range of tasks that need to be accomplished on a daily basis. NMC offers a one-year program perfect for a go-getter who thrives on balancing different priorities and who wants to get their career on the right track.
Certified Nursing Assistant
Median 2014 Wage: $25,100
Projected Growth, 2012-2022: 21%, faster than the average across all occupations
A Certified Nursing Assistant is a crucial component to any healthcare team. The job entails just what it sounds like; you'll be assisting nurses with helping patients. Sometimes, this requires you to check vital signs, and at others, you could be making up beds or just talking to a patient to make him or her feel at ease.
Nebraska Methodist College's CNA program takes just four weeks to complete, even faster than phlebotomy. This job is suited to someone who is interested in healthcare but perhaps not quite sure that they want to make the commitment to nursing just yet.
Medication Aide
Salary for an individual with a Medicate Aide Certificate is a little harder to pin down, as such persons could potentially fill different roles within the world of healthcare. Someone who works as a home health aide, for instance, may have a different salary and slightly different job functions than a similarly qualified person in a hospital or assisted living setting.
That said, the growth in this particular role is enormous. Because the baby boomer population will continue to age in the coming years, demand for persons capable of helping with a patient's medication needs is expected to grow at an astounding rate. To give you just one example, the BLS pegs such growth at 49% for home health aides.
Where Do You Fit In?
As it ages, the general population will need many individuals to step up and offer unique assistance to complement what's being provided by doctors and nurses. More and more people will gain help from a medical TEAM, and with a certificate, you could stand ready to be part of that team.
To learn more about these and other exciting roles in healthcare, be sure to click the links above or download our Healthcare Careers Guide.