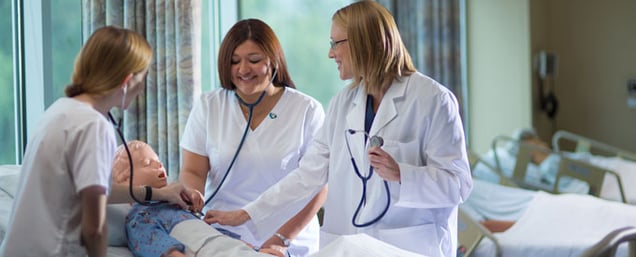 Nebraska Methodist College's Bachelor of Science in Nursing and Master of Science in Nursing programs were approved for accreditation by the Board of Commissioners of the Commission on Collegiate Nursing Education (CCNE).
The accreditation is good for 10 years, with NMC's next accreditation visit taking place in Fall 2026. The CCNE is an autonomous accrediting agency and officially recognized by the U.S. Secretary of Education as a national accreditation agency.
"By being accredited for the 10 years, NMC is identified as hosting nursing programs that engage in effective educational practices," said Dean of Nursing Linda Hughes, PhD, MS, RN, CCRN. "The process is never over, however. The nursing programs are constantly monitoring themselves on quality improvement to be the best that they can be."
NMC has nursing at the heart of its history. Established in 1891, NMC has more than 125 years of proud, successful nursing graduates. Today, the mission remains much the same – develop students who positively influence the health and well-being of the community.
Our curriculum format centers on community-based education, which allows students to gain the needed experience in a variety of settings with diverse patients preparing them for what lies ahead in the future of healthcare.
Join the ranks of proud nurses who started their career journey at NMC. Download our nursing degree guide or nursing career guide today!