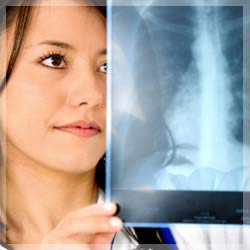 As the saying goes, a picture is worth a thousand words, but for a physician working to diagnose and treat a patient, an image of the inner body is invaluable.
Capturing those images is the job of radiographers. While sonographers use high-frequency sound waves to create pictures of the internal body, radiographers use low-level amounts of radiation — X-rays — allowing them to visualize all parts of the human body. Radiography is much more than X-raying broken bones. X-rays are used to see virtually every body part and system of a patient, including lungs, heart, blood vessels, brain, spine, sinuses, joints, bowels and kidneys.
Like sonography, radiography is for the individual who is tech-savvy and has an eye for capturing images that are useful to physicians. Radiographers are constantly working with high-tech imaging equipment and computers to complete their diagnostic radiographs of patients' anatomy. Using that equipment, they are responsible for producing detailed images that allow physicians to diagnose disease or trauma in a patient.
Like many other healthcare professions, the job market for radiographers is expected to grow in the coming years as the baby boomer population ages. However, the current outlook is somewhat unclear due to uncertainty associated with the Affordable Care Act. Radiographers have job opportunities in a variety of settings, such as hospital radiography departments, inpatient and outpatient clinics and mobile radiography units (trucks or vans that take imaging equipment to patients in places like nursing homes). A lucky few are even employed as radiographers for professional sports teams or cruise lines.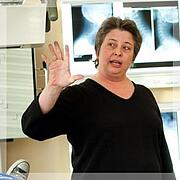 Experience in imaging also opens doors for radiographers to other career opportunities in magnetic resonance imaging (MRI), computed tomography (CT), nuclear medicine's positron emission tomography (PET), radiation therapy, sonography and cardio-vascular interventional radiography. Radiographers also have career opportunities in management and education.
Nebraska Methodist College offers a Radiologic Technology degree program to prepare students to become entry-level radiographers in the field. The program offers hands-on experience at several medical facilities throughout the Omaha metro area and southwestern Iowa. In the program, students learn how to operate a wide variety of radiography equipment and perform an array of radiologic procedures and exams, including pediatrics, geriatrics, trauma, surgery and specialty modalities.