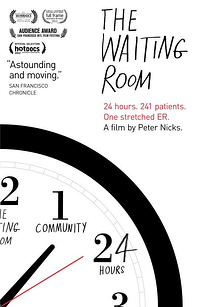 On Tuesday, January 29th, the Center for Health Partnerships collaborated with Film Streams, a non-profit cinema, to present a sold-out screening and discussion of director Peter Nicks' acclaimed health care documentary, The Waiting Room.
The Oscar-nominated film is an un-narrated, behind-the-scenes look at the emergency department at a public hospital in Oakland, California. Weaving together the stories of multiple people who need a variety of services from an overtaxed and remarkably compassionate hospital staff, the film provides a host of insights into health and healthcare in American society. This collaboration was part of Film Streams' Community Development Program.
Following the film showing, a panel, made up of representatives from the two trauma hospitals in Omaha, worked to unpack insights the film provided into health and healthcare in Omaha.
Panelists included: MJ Egan, staff nurse, The Nebraska Medical Center; Dr. William Gossman, Associate Professor of Emergency Medicine, Creighton University School of Medicine; Rosanna Morris, Sr. Vice President, Patient Care Service/Chief Nursing Officer, The Nebraska Medical Center and Dr. Robert Muelleman, Chair, UNMC Department of Emergency Medicine. The discussion was moderated by Dr. Richard O'Brien, professor at Creighton Center for Health Policy and Ethics.
The discussion that ensued was audience driven and focused on particular challenges faced in providing Omaha emergency and trauma care. It was particularly timely as Omaha works to understand the effects that the Alegent/Creighton merger and the implementation of the Patient Protection and Affordable Care Act will have on health care in our community. The audience included representatives from a broad array of healthcare related entities in Omaha and a substantial number of NMC students and faculty.
"This gave our students an opportunity to view a critically acclaimed documentary about our healthcare system and have a meaningful discussion with local leaders in the field," said Kristin Mattson, PhD, the Director of the Center for Health Partnerships. "We value the opportunities to educate our students outside the classroom and we are proud to have collaborated with Film Streams on this special screening."
About the CFHP: The Center for Health Partnerships was founded in 2007. Building upon a long history of community involvement and community-based learning, the Center works to focus NMC's community outreach to deepen both community impact and student learning.