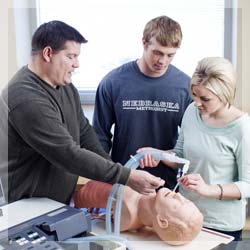 The need for skilled healthcare professionals isn't limited just to the field of nursing. For that very reason, Nebraska Methodist College isn't just a nursing college.
NMC offers an array of Allied Health programs that are perfect for those who have the drive and passion to work in healthcare and are ready to dive right into a career. Most programs are two-year associate degree programs with options to go on for a bachelor's degree. NMC also offers certificate programs that range from nine weeks to 12 months.
"Allied Health programs are for students that have a desire to work with and help people who are sick or in pain," said Dr. Patricia Sullivan, Dean of Health Professions. "A compassionate and caring attitude is critical."
NMC's Allied Health programs offer a variety of career paths, whether that is working with technology in radiology and sonography (cardiovascular or multispecialty), helping patients recover from injury as a physical therapist assistant or handing instruments while working side by side with surgeons during surgery as a surgical technologist.
Careers in Allied Health are also in demand. Respiratory care, for example, was recently named as one of the top 25 jobs in 2013 by U.S. News and World Report, while others, including medical assistants, have strong outlooks.
In each Allied Health program, NMC students receive valuable clinical experience throughout their coursework. Students learn in the classroom, practice in the lab and then reinforce their skills in the clinical setting in the same semester. This allows students to build real-life skills by practicing real patient care.
Students enrolled in an Allied Health program also are trained in cutting edge technology and software. Many of NMC's Allied Health programs will become iPad-based in the 2013-2014 school year.
For more information about NMC's Allied Health programs, contact our Admissions staff.