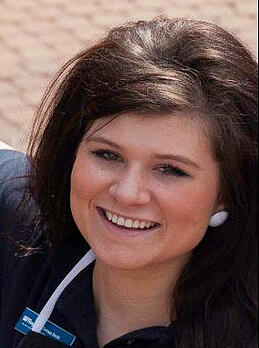 Chelsea Smith of Papillion, Neb., is a junior at Nebraska Methodist College pursuing a Bachelor of Science degree in Nursing (BSN). Chelsea took a few moments this week to share about her experience at NMC, her passion for helping others and her advice for prospective students.
What do you want to do with your degree and why did you choose that career path?
I am not exactly sure which field of nursing I want to get into, but that is the beauty of this career path. Nursing provides endless opportunities that can accommodate each individual's specific interests. This is one of the many reasons I chose this career.
Another reason is the fact that I've always known that, no matter what major I decided upon, I wanted to be able to help people, and I know now that nursing allows me to do just that.
How did you learn about Nebraska Methodist College, and why did you choose to go to school here?
I learned about Nebraska Methodist College through a college seminar provided by my high school. I had toured other nursing schools and none of them had really made me feel "at home" yet.
When I arrived at NMC for my campus tour, I instantly felt like I belonged because of the energetic and helpful staff. I was also impressed by the modern design of the college — everything looked new and updated compared to the other colleges I had visited. After receiving my tour and packets full of helpful information on how to apply and where to start, there was no doubt in my mind that Nebraska Methodist College was right for me.
What makes NMC unique, and what would you recommend about NMC to others?
NMC is unique in several ways. It is a rather small school, now educating around 1,000 students. This small community gives the college a sense of belonging and family. All the staff members know who you are and are all there to help you succeed. At NMC you are a name, not a number. Due to the small classroom size it makes for an easy transition from high school, and really allows for the students to get to know their instructors. In clinical, the student to teacher ratio is eight to one, which really forms a close group and enables students to participate in a variety of hands on experiences.
Another great aspect of NMC is the student involvement. As the student body, we are the ones who get to make the changes around our school. We all have a voice when it comes to changing our school for the better. This allows students to be creative and see their ideas become a reality.
I would recommend this school to any student wanting to become part of the healthcare world. Everyone who attends NMC is studying to become a part of healthcare as well, so it is really great to be surrounded by people who understand the hard work you are doing and what you are trying to become.
What advice do you have to offer prospective students about college?
My biggest advice to prospective students is to plan ahead. It is so important to prepare yourself for the next chapter of your life. Filling out applications and scholarships as early as possible will help lessen your anxiety and make your transition into college a way smoother process.
Prospective students should also never fear to ask questions or ask for help, because planning their future and the classes they are going to take can sometimes be confusing. Embracing new experiences is also a great piece of advice. College is full of new and exciting opportunities, and the more you learn to participate and enjoy them, the better your experience will be.