Practice Makes Perfect
If you were training to be a pilot, you'd probably want your first take-off to happen in a high-tech flight simulator. In the same way, if you were working to become a firefighter, you would want your first encounter with putting out a fire to be a drill under controlled conditions.
The same is true for being a nurse, and that's the idea behind Nebraska Methodist College's Nursing Arts Center. The Nursing Arts Center is set up to simulate hospital, nursing home and clinical settings that nurses may encounter in their careers.
At the heart of the Nursing Arts Center is the Watson family, a set of six high fidelity manikins that simulate a number of scenarios nurses will encounter in the field. The Watson family is named after Jean Watson, an internationally-recognized nurse theorist and nursing professor whose Theory of Human Caring is at the foundation of NMC's BSN program.
Meet the Family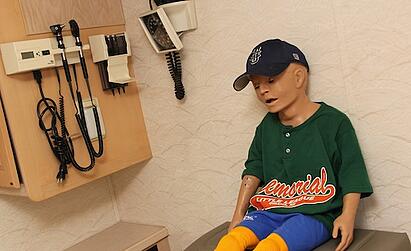 At first glance, it's easy for students to see the Watson family isn't what you might picture when you hear the word "manikin." They blink and "breathe," and they can even talk — some in both English and Spanish. But their functions go far beyond that.
Being so lifelike, each member of the Watson family also has a name: Noel, Suzie, Gregg, Hal, Hal Jr. (pictured, right) and Baby Hal. Noel is a birth-simulating manikin, and she can simulate a number of childbirth complications. Baby Hal, the baby she births, can simulate several different types of cries, seizures, color change, dilated pupils, and heart, lung and bowel sounds.
Suzie helps students learn how to check a patient's blood sugar and how to administer IV fluids, feeding tubes, catheters or assisted breathing. NMC students also use Suzie to learn how to look for breast cancer as well as treat complications due to sexually transmitted diseases. Hal and Gregg are male manikins that simulate many of the functions and scenarios already mentioned, while Hal Jr. simulates a patient who is a younger child. Hal also has drug recognition ability to tell if a student has mixed and administered medicine correctly. The manikins also can simulate CPR as well as defibrillation.
The Watson family and the Nursing Art Center's simulation rooms provide valuable real world experience. So much so that later this year, doctors and nurses from Methodist Women's Hospital will be using the simulation rooms to practice birthing scenarios involving the many complications they might encounter during a birth. That says a lot about the level of learning NMC nursing students have access to at the Nursing Arts Center.
Take the Tour
Meet the Watson Family for yourself during one of NMC's Visit Days: