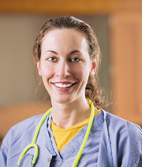 It's no surprise the demand for qualified nurses continues to rise. The country's baby boomer population is aging, while at the same time, a large portion of the nurse workforce is expected to retire this decade.
The Need for Highly Educated Nurses
But there is also another rising demand among the nursing field — the need for nurses with a bachelor of science degree, commonly known as a BSN. As healthcare in the U.S. continues to become more complex and diverse, nurses with BSNs are needed to take on leadership and managerial roles in the field. Nurses need to be capable of assuming more leadership and management roles to prevent disease, promote health, and provide primary care to individuals, communities and other populations.
The RN-to-BSN online program at NMC is the first step for qualified nurses who want to advance their education and be on the forefront of healthcare improvement.
Do I REALLY need an advanced nursing degree?
In short, the answer is yes. According to a recent article from the New York Times, surveys show that most hospitals prefer to hire nurses with bachelor's degrees. Many hospitals have either made it their policy only to hire nurses with at least a BSN, or to hire nurses with the agreement that they will earn a BSN within a certain amount of time.
Several states are even looking at bills that would require hospitals to have a certain percentage of BSN-educated nurses on staff. As part of this shift, many hospitals are also phasing out licensed practical nurses (LPNs) all together.
According to the Association of Colleges of Nursing, all Magnet hospitals, which are recognized for nursing excellence, have moved to require all nurse managers and nurse leaders to hold a baccalaureate or graduate degree in nursing by 2013. Applying for Magnet designation must also show what plans are in place to achieve the recommendation of having an 80% baccalaureate prepared RN workforce by 2020.
So, then what's next?
That's important to know whether you are at the beginning of your nursing career path or already somewhere along the way. If you are exploring a career in nursing, it's important that you enter the field with the educational preparation and degree that will allow you to be successful in the long run. If you are currently an LPN or a registered nurse (RN) without a BSN, don't panic. There are plenty of educational options to suit you as you grow in your career.
Nebraska Methodist College offers several BSN programs on campus and online. For RNs looking to improve their skills and qualifications, NMC offers these online programs: RN to BSN; RN to MSN (master of science in nursing), educator; and RN to MSN, executive.
For more information on our programs,
or comment below with any questions about our programs.