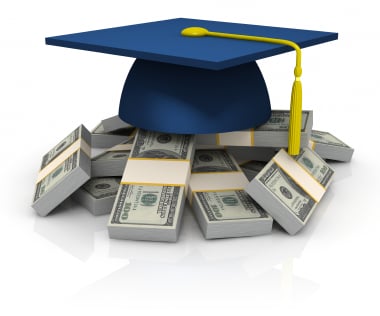 In today's economic climate, the cost of education is one of the biggest concerns many students have when choosing a college.
Tuition, books, living expenses — it all adds up, and the final totals can look daunting at first glance. But don't be discouraged, you can still afford to go to college, and it is worth the investment.
Things to know when financing your education:
Fill out the FAFSA as soon as possible

Apply for scholarships from your college but also look at external options (foundations, etc.)

Federal Financial Aid is not automatically renewed. Be sure to reapply every year.

Shop around for private loans – don't settle for the first one you see. Rates are very competitive.

Use your college's Financial Aid Office as a resource – they are on your side.

Take advantage of the American Opportunity Tax Credit – you can receive a tax credit for your money paid toward tuition, fees and books.
Scholarships & Grants
Many scholarship and grant opportunities are out there from the college itself as well as outside sources to help you pay for college. At Nebraska Methodist College, last year alone we awarded $2.5 million in scholarships and grants from institutional, state and federal sources to our student body of approximately 800 students. Visit the Scholarship and Grant pages on our website to learn more about what scholarships and grants you are eligible to apply for.
Loans

Student loans are also an important option to consider. Last year, NMC students received more than $4.2 million in financial aid from federal, state and private loans.
Due to America's growing student loan debt, student loans have gained some negative attention in the media in recent months. But managed responsibly, student loans can be a great resource for investing in your future. When taking out a student loan, it's important to consider the potential pay and demand for jobs in your chosen career field.
But like we mentioned in our last blog, jobs in healthcare pay well and the demand for them continues to grow. In fact, 98 percent of NMC graduates find a job within six months of graduation in the nursing or allied health field. That's a reassuring statistic when deciding how to invest in your future.
Always Ask Questions
If you have questions about your options for paying for your education as well as scholarship and grant opportunities, contact our Financial Aid staff. They can help to give you advice and insight to make smart decisions that can take some of the stress out of paying for college.