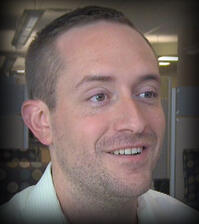 Nebraska Methodist College student, Jed Hansen was selected as a winner for the New Careers In Nursing (NCIN) I Believe this About Nursing essay contest for the month of June, 2012.
As a Robert Wood Foundation scholar, Jed submitted an essay that shared his personal story about why he wants to become a nurse, what he has learned, who has inspired him or what he wants to contribute to the profession.
Hansen, 31 years old, previously worked in the financial industry in New York. He graduated with a business degree from University of Nebraska-Lincoln and immediately began his career in finance but soon felt driven to healthcare. He will graduate from Nebraska Methodist College in the spring with a Bachelor of Science in Nursing.
An Excerpt from Jed's Essay
"Unlike many nurses and fellow students, when deciding on a career in healthcare I wasn't sure what I wanted to do. I took a systematic look at several different career paths and educational routes, making sure I was going to enter into a career that made sense for where I was in my life and where I wanted to go. I was looking for a career that offered personal flexibility and autonomy, a career that allowed me to help others, and a career that offered various professional routes. After diligent research, I found that nursing was the certain path that would offer me all of these career traits."
His winning essay can be viewed on the NCIN website.
View Jed's Comments